Q1. How much will shipping cost?
A1. Because of the large difference in the shipping weights of tires, we calculate shipping costs based the weight and size of the tire. Shipping costs an average of $10.00 per tire. The exact amount you will be charged for shipping will be calculated automatically by our "Tire Cart" system. Try it!

Q2. Do you ship to Canada?
A2. Yes we do, we ship within the 50 states of the US and Canada. Keep in mind all of our prices are in US Dollars.

Q3. Do you ship to APO/FPO addresses?
A3. Sorry, we no longer ship to APO or FPO addresses. We ship within the 50 states of the US and Canada only.

Q4. I have placed an order: Has my order shipped yet? What is the UPS tracking number?
A4. You can check the status of your order from our Order Tracking page. If your order has been shipped, you will be given the option to track your package and obtain the package tracking number. Please note: Your order information will not be immediately available in our online database. Please allow 1 to 2 business days, after placing an order, for your order to appear in this database. If your order is not in our online database it has not shipped.

Q5. How long will shipping take?
A5. After adding an item to your Tire Cart and entering your zip (postal) code, an estimated delivery date will be listed below every item in your Tire Cart.
See the image below for an example of how your delivery dates will appear.

Our standard shipping method is UPS ground. You may refer to the maps below for an idea of how long UPS ground shipping will take from our various warehouses. The maps below are supplied for reference only. We strongly suggest you refer to the delivery dates listed in your Tire Cart (as shown above) for the most accurate delivery information.

Keep in mind; the days indicated in the maps below are business days. (Do not count Saturday or Sunday when calculating shipping time.) We also offer UPS Next Day, 2nd Day and 3 Day Select which can be selected from the Tire Cart menu. Orders usually ship within one to two business days from the time you place the order.


Most tires ship from our Pennsylvania or Utah warehouses. Our Tire Cart system will automatically select your closest warehouse (not all tires are stocked in all warehouses) and indicate what warehouse your tires will ship from.
See below for ground shipping times from the Pennsylvania (PA) warehouse.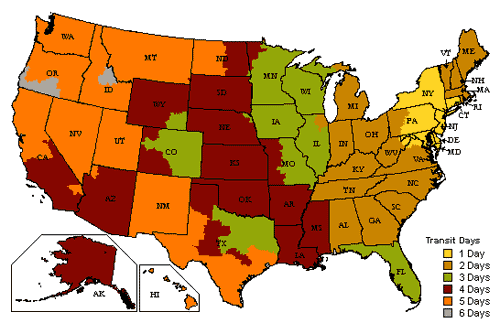 Some tires, SmarTire systems and TireTote products ship from our Utah (UT) warehouse.
See below for ground shipping times from the Utah (UT) warehouse.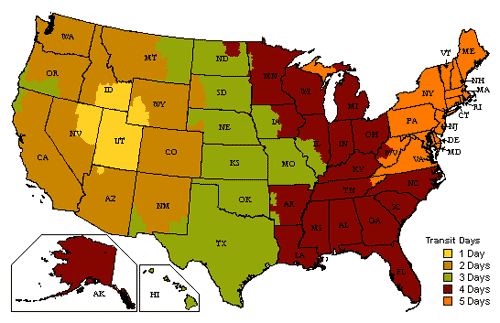 Some tire chains may be shipped from our alternate warehouse in Oregon (OR), if it is faster, or the particular chains you order are out of stock in our Pennsylvania warehouse. (Tires are not shipped from our Oregon warehouse) See the shipping map below for shipping times for UPS ground from our Oregon warehouse.