Vredestein Arctrac STUDDED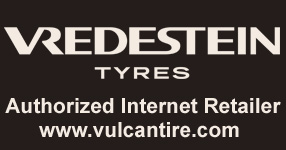 Vulcantire.com is authorized by Vredestein Tire Co. to sell Vredestein brand tires online. As such, all the Vredestein tires we sell were recently purchased directly from Vredestein and are backed by the manufacturer's warranty.
Note that Vredestein does not allow the sale of their products on Amazon, ebay and similar sites.
THIS TIRE COMES WITH METAL STUDS INSTALLED FOR THE ULTIMATE IN SNOW AND ICE TRACTION!
The Arctrac was developed for extreme winter conditions and various types of snow and ice. The angular 3D shoulder contours and stepped inner surface of the groove provide additional diagonal grip and stability, especially in snow. The intelligent tread construction means spike loss is reduced, ensuring their effectiveness. Tapered diagonal grooves give the best possible self-cleaning performance. Even in the coldest weather, the Arctrac guarantees excellent handling, a short braking path and fast acceleration.

Sophisticated Spike Algoritm (intelligent stud disruption in footprint) and smart tread construction offers excellent grip on snow and ice with minimal loss of studs.

Angular 3D contour with stepped inner groove surface offers additional diagonal grip, stability and superb holding.

Innovative tread compound offers great grip even in extremely cold conditions.

Tapered diagonal grooves offer superior self-cleaning performance in snow and slush.

Specially adjusted tire contour (per size) offers equal pressure distribution on the studs, improving grip.

Vredestein Arctrac STUDDED
Need a shipping quote or stock info? Just click ADD TO CART >
Info on Our Pricing
$0.00 Tax Collected Outside Utah

175/70R13 82T
Stock #:

10790

Sidewall Style:

Black

Load Index:

82

Speed Rating:

T

UTQG:

175/70R14 84T
Stock #:

10791

Sidewall Style:

Black

Load Index:

84

Speed Rating:

T

UTQG:

185/70R14 88T
Stock #:

10792

Sidewall Style:

Black

Load Index:

88

Speed Rating:

T

UTQG:

175/65R14 82T
Stock #:

10793

Sidewall Style:

Black

Load Index:

82

Speed Rating:

T

UTQG:

185/65R14 86T
Stock #:

10794

Sidewall Style:

Black

Load Index:

86

Speed Rating:

T

UTQG:

185/65R15 88T
Stock #:

10795

Sidewall Style:

Black

Load Index:

88

Speed Rating:

T

UTQG:

195/65R15 91T
Stock #:

10796

Sidewall Style:

Black

Load Index:

91

Speed Rating:

T

UTQG:
Vredestein Arctrac STUDDED
Need a shipping quote or stock info? Just click ADD TO CART >
Info on Our Pricing
$0.00 Tax Collected Outside Utah

205/65R15 94T
Stock #:

10797

Sidewall Style:

Black

Load Index:

94

Speed Rating:

T

UTQG:

185/60R15 88T
Stock #:

10798

Sidewall Style:

Black

Load Index:

88

Speed Rating:

T

UTQG:

195/60R15 88T
Stock #:

10799

Sidewall Style:

Black

Load Index:

88

Speed Rating:

T

UTQG:

215/65R16 102T
Stock #:

10800

Sidewall Style:

Black

Load Index:

102

Speed Rating:

T

UTQG:

205/60R16 96T
Stock #:

10801

Sidewall Style:

Black

Load Index:

96

Speed Rating:

T

UTQG:

215/60R16 99T
Stock #:

10802

Sidewall Style:

Black

Load Index:

99

Speed Rating:

T

UTQG:

205/55R16 95T
Stock #:

10803

Sidewall Style:

Black

Load Index:

95

Speed Rating:

T

UTQG:
Vredestein Arctrac STUDDED
Need a shipping quote or stock info? Just click ADD TO CART >
Info on Our Pricing
$0.00 Tax Collected Outside Utah

215/55R16 97T
Stock #:

10804

Sidewall Style:

Black

Load Index:

97

Speed Rating:

T

UTQG:

225/55R16 95T
Stock #:

10805

Sidewall Style:

Black

Load Index:

95

Speed Rating:

T

UTQG:

225/50R17 98T
Stock #:

10806

Sidewall Style:

Black

Load Index:

98

Speed Rating:

T

UTQG:

225/45R17 94T
Stock #:

10807

Sidewall Style:

Black

Load Index:

94

Speed Rating:

T

UTQG:
| | |
| --- | --- |
| "Overall" Rating of the Vredestein Arctrac - STUDDED | |
Verified Owner

3/8/2013

Overall Rating

Daily Driver/Commuter

Average Driver

2006 CHYSLER PT CRUISER

some of the best snow tires I have ever used ,will buy them again I drive in Mountains all the time

See Full Review