"quick and easy, wow what a concept!"

- Denis from MA
Tire Chain FAQ
| | |
| --- | --- |
| Please read through all of these questions and answers, as they may answer questions you haven't thought of. | |
Q1. What are cable chains and how are they different from traditional link tire chains.

A1. Cable chains are a new breed of tire chain that instead of using large, heavy steel links, these cable chains use a high strength steel aircraft cable surrounded by alloy steel traction coils. These cable chains offer better traction and a smoother ride than traditional chains. Also, because of their lower profile, just about any vehicle can use cable chains, including today's high-performance cars and trucks. Have a sports car that won't go in the snow? …cable chains will make it go! In addition, their very light weight makes them easy to install, take off and store away. Some cable chain models use special rubber tighteners, which means you don't have to stop your vehicle to retighten.


Q2. What is the difference between the "Radial Chain - cable chain" and "Z-Type" cable chains?

A2. The "Radial Chain" is cable chain with a ladder-type pattern. Similar to that of traditional link tire chains. This chain offers the low profile of a cable chain and is very affordable. However the "Z-type" cable chains, have a "Z" chain pattern that "zigzag's" across the tire tread. This type of chain offers the best possible traction in all types of adverse weather conditions. Because of the "Z" pattern there is always metal from the chain in contact with the road surface, this is not so with the Radial Chain. In addition to better traction, this "Z" pattern offers a smother ride and greater compatibility with anti-lock breaks.


Q3. What is the maximum speed I can travel with chains on my car?

A3. The maximum recommended speed is 30 MPH for most chains.


Q4. I have anti-lock breaks; can I use tire chains?

A4. Yes. Although "Z" series tire cable chains offer greater compatibility with anti-lock brake systems.


Q5. Which tires should I apply tire chains to?

A5. If you have a rear wheel drive or 4-wheel drive vehicle, tire chains in the rear is sufficient. If your vehicle has front wheel drive chains on the front tires is sufficient. HOWEVER, IT IS STRONGLY RECOMMENDED BY VULCAN TIRE SALES THAT YOU APPLY TIRE CHAINS TO ALL FOUR WHEELS NO MATTER WHAT YOUR VEHICLE'S DRIVE CONFIGURATION TO OFFER THE BEST TRACTION AND MAINTAIN THE VEHICLE'S NORMAL HANDLING PROPERTIES. Unless your vehicel's owners manual specifly states not to.


Q6. My vehicle's manual states that tire chains should not be used on my vehicle, is this true?

A6. Some owner's manuals state that certain tire sizes do not provide enough clearance to accommodate tire chains. Frequently, car manufacturers make these statements because a vehicle has less clearance around the tire than "Class S" requires. The fact is, many of these vehicles can use either the "SCC Super Z6" or the "SCC Super Z8" cable chains. Both of these products far exceed "Class S" clearance requirements. For example, the "Super Z-6" cable chain only requires 1/4" (6mm) of clearance on the tire's inside sidewall while "Class S" requires over 1/2" (15mm).
Trying to measure the nearest obstruction under your vehicle could be tricky (most clearance issues are hidden from view as they are behind the tire). To insure that you have adequate clearance to operate any traction device they must be pre-fitted and driven a short distance. Start slowly, if you hear any contact (a ticking sound), stop and remove the chains immediately. (When testing a chain for fitment or clearance, we recommend driving on a rug or towels to prevent damage to the chain should you need to return it.) Regardless of the type of traction product you use, do not exceed 30 mph.


Q7. What type of tire chain is the easiest to install and take off?

A7. The "Shur-Grip Z" or "Super Z-6" cable chains are quickest and easiest to apply and remove. The "Shur-Grip Z" or "Super Z-6's" special rubber tightener and light weight make it easy to deal with even in a snowstorm.


Q8. Why is their such a big price difference between the "Radial Cable", the "Shur-Grip Z" (or Super Z-6) and "Z-Chain"?

A8. One big difference is durability. The "Shur-Grip Z" (or Super Z-6) is made with a higher-grade aircraft cable and larger traction coils, "Z-chain" is made to even higher standards. For example the "Radial Cable" is rated to last 135 miles on dry roads, the "Shur Grip Z" (or Super Z-6) 225 miles and the "Z-chain" 375 miles. (Actual mileage may vary, keep in mind these ratings are for dry roads so if you use your chains in snow or mud you can expect longer wear.)


Q9. What is Class "S" and what chains meet this standard.?

A9. Class "S" is the Society of Automotive Engineers' definition of the least amount of space that should be provided around the drive tires of any vehicle to accommodate the use of a winter traction device. This space measures 1.46 in. (37mm) from the tread-face of the tire to the nearest obstruction and .59 in. (15mm) from the sidewall to the nearest obstruction. (See diagram below) The following chains meet the Class "S" standard: "Z-Chain", "Super Z LT" and some "Quik Grip" sizes (the details in the chain fitment search will display the class for each item). The following chains beat the Class "S" standard: "Radial Cable", "Super Z-6" and some "Sure Grip Z"sizes (the details in the chain fitment search will display the class for each item).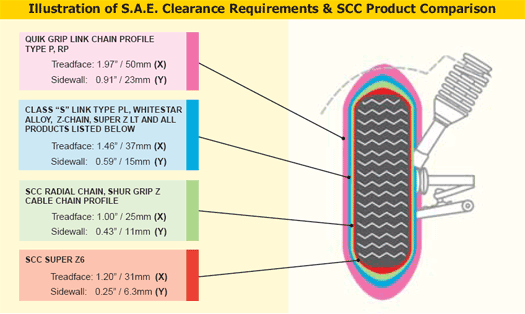 Q10. Is my vehicle Class "S"?

A10. Most vehicle manufacturers have assigned a clearance class to all of their vehicle styles. This information is located in the vehicle owner's manual under "chains", "traction devices", "tires" or a related heading. It is very important to select a traction device that is compatible with the minimum class assigned to your vehicle. If you can't locate the clearance requirements of your vehicle in the manual, contact the manufacturer. Class "S" products also meet the requirements for Class "W" and Class "U".