PressurePro Motorcycle Tire Pressure Monitoring System (TPMS)
Introduction
PressurePro's Tire Pressure Monitoring System gives the driver detailed information about his or her motorcycle tires. The system's small, weatherproof receiver/display and easy-to-read LED display allows the driver to check the current pressure of all his tires, even the tires on a motorcycle trailer or trike! (extra sensors sold separately). In the event of deviation from required pressure, the system will issue an audible and visual alert on the in-cab display. These alerts occur at a 12.5% and 25% deviation from the desired cold pressure.
If a tire's air pressure drops below the programmed value the rider will be alerted by an ultra-bright alert LED and the display will identify the problem tire. The bike can then be pulled to a safe location and the highlighted tire on the LED display can be inspected.
Click here for an animated demo

How It Works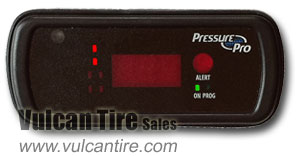 The wireless tire pressure sensors are mounted on your valve stems, outside your tires (each sensor weighs only 2/3 oz so they will not effect balancing on larger tires, in some cases a 1/2 oz stick-on weight may need to be added opposite the sensor). The sensors send pressure data via a digitally encoded, wireless signal to the display in your vehicle. The sensors/transmitters are equipped with lithium batteries, their useful life is estimated at more than 3 years when installed.

Requirements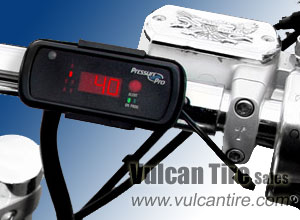 This system is compatible with virtually any Motorcycle/Trike and Trailer.

Warranty
PressurePro Tire Pressure Monitoring Systems are backed by a one-year/unlimited mileage manufacturer's warranty.

Try it for Thirty Days
As with most of the products we offer, you can return this system within 30 days if you are not satisfied. See our Sales Policy for more information on returns.

Please call us at:

if you have any questions.
Kit
Includes

1 Mini-Reciever/Display
2 Sensors
1 Handlebar Mount
1 Programming Tool
1 Install Wrench
1 Quick Disconnect Cord
1 Owner's Manual
1 Retail Box

Installation Difficulty

Download Owner's/Installation Manual
(PDF Format)