"The tires got here extremely fast and were exactly as described. It is nice having a great company to deal with."

- Jason from TN
Vredestein Quatrac Pro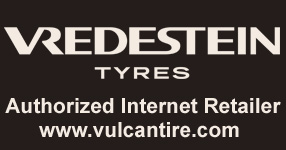 Vulcantire.com is authorized by Vredestein Tire Co. to sell Vredestein brand tires online. As such, all the Vredestein tires we sell were recently purchased directly from Vredestein and are backed by the manufacturer's warranty.
Note that Vredestein does not allow the sale of their products on Amazon, ebay and similar sites.
The Quatrac Pro is the ultimate all-season performance tire for powerful cars and SUVs. This tire was designed for motorists who want one tire for luxury, traction, and comfort all year round. The Quatrac Pro is one of the few "all season tires" in the industry to bear the "Severe Snow Service" symbol.

Modern asymmetrical, non-directional tread engineered to optimize safety and ride quality in all weather conditions.

Features excellent handling characteristics and superb grip ideal for wet, dry, and winter conditions.

Four central longitudinal grooves maximize water dispersion to improve wet handling and prevent hydroplaning.

Center sipes enhance snow performance while wide center ribs increase dry handling and braking ability.

Fulfills the requirements for official designation as a winter tire- bears both regular "M+S" and "Severe Snow Service" (snowflake) symbols.

Mileage Warranty

40,000

Avaliable Speed Ratings

W, Y, V, H

Severe Snow Service

All Season Traction

M+S Rated

Tread Design

Asymmetrical

General Warranty

Standard, Prorated
[more info]

Road Hazard Warranty

1 Year, 2/32 inch

Free Test Drive

30 Days

Item Condition

New
×
| | |
| --- | --- |
| "Overall" Rating of the Vredestein Quatrac Pro | |
There are currently no comments available for this item.
Vredestein Quatrac Pro
Need a shipping quote or stock info? Just click ADD TO CART >
Info on Our Pricing
$0.00 Tax Collected Outside Utah

205/40R17 84W
Stock #:

22333

Sidewall Style:

Black

Load Index:

84

Speed Rating:

W

UTQG:

400 A A

205/50R17 93Y
Stock #:

22334

Sidewall Style:

Black

Load Index:

93

Speed Rating:

Y

UTQG:

400 A A

205/50R17 93V
Stock #:

22335

Sidewall Style:

Black

Load Index:

93

Speed Rating:

V

UTQG:

400 A A

215/40R17 87Y
Stock #:

22336

Sidewall Style:

Black

Load Index:

87

Speed Rating:

Y

UTQG:

400 A A

215/60R17 100V
Stock #:

22337

Sidewall Style:

Black

Load Index:

100

Speed Rating:

V

UTQG:

400 A A

215/60R17 96H
Stock #:

22338

Sidewall Style:

Black

Load Index:

96

Speed Rating:

H

UTQG:

400 A A

215/65R17 99V
Stock #:

22339

Sidewall Style:

Black

Load Index:

99

Speed Rating:

V

UTQG:

400 A A
Vredestein Quatrac Pro
Need a shipping quote or stock info? Just click ADD TO CART >
Info on Our Pricing
$0.00 Tax Collected Outside Utah

225/45R17 94Y
Stock #:

22340

Sidewall Style:

Black

Load Index:

94

Speed Rating:

Y

UTQG:

400 A A

225/45R17 94V
Stock #:

22341

Sidewall Style:

Black

Load Index:

94

Speed Rating:

V

UTQG:

400 A A

225/50R17 98Y
Stock #:

22342

Sidewall Style:

Black

Load Index:

98

Speed Rating:

Y

UTQG:

400 A A

225/50R17 98V
Stock #:

22343

Sidewall Style:

Black

Load Index:

98

Speed Rating:

V

UTQG:

400 A A

225/55R17 101Y
Stock #:

22344

Sidewall Style:

Black

Load Index:

101

Speed Rating:

Y

UTQG:

400 A A

235/55R17 103Y
Stock #:

22345

Sidewall Style:

Black

Load Index:

103

Speed Rating:

Y

UTQG:

400 A A

235/55R17 99V
Stock #:

22346

Sidewall Style:

Black

Load Index:

99

Speed Rating:

V

UTQG:

400 A A
Vredestein Quatrac Pro
Need a shipping quote or stock info? Just click ADD TO CART >
Info on Our Pricing
$0.00 Tax Collected Outside Utah

245/45R17 99Y
Stock #:

22347

Sidewall Style:

Black

Load Index:

99

Speed Rating:

Y

UTQG:

400 A A

265/65R17 116H
Stock #:

22348

Sidewall Style:

Black

Load Index:

116

Speed Rating:

H

UTQG:

400 A A

215/50R18 92W
Stock #:

22349

Sidewall Style:

Black

Load Index:

92

Speed Rating:

W

UTQG:

400 A A

225/40R18 92Y
Stock #:

22350

Sidewall Style:

Black

Load Index:

92

Speed Rating:

Y

UTQG:

400 A A

225/40R18 92V
Stock #:

22351

Sidewall Style:

Black

Load Index:

92

Speed Rating:

V

UTQG:

400 A A

225/45R18 95Y
Stock #:

22352

Sidewall Style:

Black

Load Index:

95

Speed Rating:

Y

UTQG:

400 A A

225/55R18 102V
Stock #:

22353

Sidewall Style:

Black

Load Index:

102

Speed Rating:

V

UTQG:

400 A A
Vredestein Quatrac Pro
Need a shipping quote or stock info? Just click ADD TO CART >
Info on Our Pricing
$0.00 Tax Collected Outside Utah

235/60R18 107W
Stock #:

22354

Sidewall Style:

Black

Load Index:

107

Speed Rating:

W

UTQG:

400 A A

235/65R18 110H
Stock #:

22355

Sidewall Style:

Black

Load Index:

110

Speed Rating:

H

UTQG:

400 A A

245/40R18 97Y
Stock #:

22356

Sidewall Style:

Black

Load Index:

97

Speed Rating:

Y

UTQG:

400 A A

245/45R18 100Y
Stock #:

22357

Sidewall Style:

Black

Load Index:

100

Speed Rating:

Y

UTQG:

400 A A

255/55R18 109W
Stock #:

22358

Sidewall Style:

Black

Load Index:

109

Speed Rating:

W

UTQG:

400 A A

225/45R19 96W
Stock #:

22359

Sidewall Style:

Black

Load Index:

96

Speed Rating:

W

UTQG:

400 A A

235/35R19 91Y
Stock #:

22360

Sidewall Style:

Black

Load Index:

91

Speed Rating:

Y

UTQG:

400 A A
Vredestein Quatrac Pro
Need a shipping quote or stock info? Just click ADD TO CART >
Info on Our Pricing
$0.00 Tax Collected Outside Utah

235/50R19 99V
Stock #:

22361

Sidewall Style:

Black

Load Index:

99

Speed Rating:

V

UTQG:

400 A A

235/55R19 105W
Stock #:

22362

Sidewall Style:

Black

Load Index:

105

Speed Rating:

W

UTQG:

400 A A

245/40R19 98Y
Stock #:

22363

Sidewall Style:

Black

Load Index:

98

Speed Rating:

Y

UTQG:

400 A A

245/45R19 102Y
Stock #:

22364

Sidewall Style:

Black

Load Index:

102

Speed Rating:

Y

UTQG:

400 A A

255/40R19 100Y
Stock #:

22365

Sidewall Style:

Black

Load Index:

100

Speed Rating:

Y

UTQG:

400 A A

255/50R19 107W
Stock #:

22366

Sidewall Style:

Black

Load Index:

107

Speed Rating:

W

UTQG:

400 A A

255/55R19 111W
Stock #:

22367

Sidewall Style:

Black

Load Index:

111

Speed Rating:

W

UTQG:

400 A A
Vredestein Quatrac Pro
Need a shipping quote or stock info? Just click ADD TO CART >
Info on Our Pricing
$0.00 Tax Collected Outside Utah

275/35R19 100Y
Stock #:

22368

Sidewall Style:

Black

Load Index:

100

Speed Rating:

Y

UTQG:

400 A A

235/45R20 100W
Stock #:

22369

Sidewall Style:

Black

Load Index:

100

Speed Rating:

W

UTQG:

400 A A

245/35R20 95Y
Stock #:

22370

Sidewall Style:

Black

Load Index:

95

Speed Rating:

Y

UTQG:

400 A A

245/40R20 99Y
Stock #:

22371

Sidewall Style:

Black

Load Index:

99

Speed Rating:

Y

UTQG:

400 A A

255/35R20 97Y
Stock #:

22372

Sidewall Style:

Black

Load Index:

97

Speed Rating:

Y

UTQG:

400 A A

255/40R20 101Y
Stock #:

22373

Sidewall Style:

Black

Load Index:

101

Speed Rating:

Y

UTQG:

400 A A

255/55R20 110Y
Stock #:

22374

Sidewall Style:

Black

Load Index:

110

Speed Rating:

Y

UTQG:

400 A A
Vredestein Quatrac Pro
Need a shipping quote or stock info? Just click ADD TO CART >
Info on Our Pricing
$0.00 Tax Collected Outside Utah

275/30R20 97Y
Stock #:

22375

Sidewall Style:

Black

Load Index:

97

Speed Rating:

Y

UTQG:

400 A A

275/40R20 106Y
Stock #:

22376

Sidewall Style:

Black

Load Index:

106

Speed Rating:

Y

UTQG:

400 A A

275/45R20 110Y
Stock #:

22377

Sidewall Style:

Black

Load Index:

110

Speed Rating:

Y

UTQG:

400 A A

315/35R20 110Y
Stock #:

22378

Sidewall Style:

Black

Load Index:

110

Speed Rating:

Y

UTQG:

400 A A

245/35R21 96Y
Stock #:

22379

Sidewall Style:

Black

Load Index:

96

Speed Rating:

Y

UTQG:

400 A A

275/40R21 107Y
Stock #:

22380

Sidewall Style:

Black

Load Index:

107

Speed Rating:

Y

UTQG:

400 A A

275/45R21 110Y
Stock #:

22381

Sidewall Style:

Black

Load Index:

110

Speed Rating:

Y

UTQG:

400 A A
Vredestein Quatrac Pro
Need a shipping quote or stock info? Just click ADD TO CART >
Info on Our Pricing
$0.00 Tax Collected Outside Utah

285/40R21 109Y
Stock #:

22382

Sidewall Style:

Black

Load Index:

109

Speed Rating:

Y

UTQG:

400 A A