"Fast Delivery, Thanks gr-8 products at below reasonable prices."

- Jason from CA
Vredestein Sportrac 5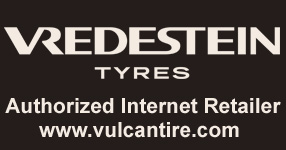 Vulcantire.com is authorized by Vredestein Tire Co. to sell Vredestein brand tires online. As such, all the Vredestein tires we sell were recently purchased directly from Vredestein and are backed by the manufacturer's warranty.
Note that Vredestein does not allow the sale of their products on Amazon, ebay and similar sites.
The Sportrac 5 offers world-class performance in both dry and wet conditions.

3 wide circumferential grooves
Offer short stopping distances on wet roads.

Z-shaped grooves in centre rib
Provides increased stiffness for confident handling

Optimized radial design
Increases stiffness to minimize noise and absorb bounces for extra comfort.

Avaliable Speed Ratings

H, V

General Warranty

Standard, Prorated
[more info]

Item Condition

New
×
| | |
| --- | --- |
| "Overall" Rating of the Vredestein Sportrac 5 | |
There are currently no comments available for this item.
Vredestein Sportrac 5
Need a shipping quote or stock info? Just click ADD TO CART >
Info on Our Pricing
$0.00 Tax Collected Outside Utah

165/60R14 75H
Stock #:

22216

Sidewall Style:

Black

Load Index:

75

Speed Rating:

H

UTQG:

300 A A

175/60R14 79H
Stock #:

22219

Sidewall Style:

Black

Load Index:

79

Speed Rating:

H

UTQG:

300 A A

175/65R14 82H
Stock #:

22222

Sidewall Style:

Black

Load Index:

82

Speed Rating:

H

UTQG:

300 A A

175/70R14 88H
Stock #:

22224

Sidewall Style:

Black

Load Index:

88

Speed Rating:

H

UTQG:

300 A A

185/55R14 80H
Stock #:

22225

Sidewall Style:

Black

Load Index:

80

Speed Rating:

H

UTQG:

300 A A

185/60R14 82H
Stock #:

22228

Sidewall Style:

Black

Load Index:

82

Speed Rating:

H

UTQG:

300 A A

185/65R14 86H
Stock #:

22231

Sidewall Style:

Black

Load Index:

86

Speed Rating:

H

UTQG:

300 A A
Vredestein Sportrac 5
Need a shipping quote or stock info? Just click ADD TO CART >
Info on Our Pricing
$0.00 Tax Collected Outside Utah

185/70R14 88H
Stock #:

22233

Sidewall Style:

Black

Load Index:

88

Speed Rating:

H

UTQG:

300 A A

195/60R14 86H
Stock #:

22242

Sidewall Style:

Black

Load Index:

86

Speed Rating:

H

UTQG:

300 A A

195/65R14 89H
Stock #:

22245

Sidewall Style:

Black

Load Index:

89

Speed Rating:

H

UTQG:

300 A A

195/70R14 91H
Stock #:

22248

Sidewall Style:

Black

Load Index:

91

Speed Rating:

H

UTQG:

300 A A

175/50R15 75H
Stock #:

22217

Sidewall Style:

Black

Load Index:

75

Speed Rating:

H

UTQG:

300 A A

175/60R15 81V
Stock #:

22220

Sidewall Style:

Black

Load Index:

81

Speed Rating:

V

UTQG:

300 A A

175/60R15 81H
Stock #:

22221

Sidewall Style:

Black

Load Index:

81

Speed Rating:

H

UTQG:

300 A A
Vredestein Sportrac 5
Need a shipping quote or stock info? Just click ADD TO CART >
Info on Our Pricing
$0.00 Tax Collected Outside Utah

175/65R15 84H
Stock #:

22223

Sidewall Style:

Black

Load Index:

84

Speed Rating:

H

UTQG:

300 A A

185/55R15 82V
Stock #:

22226

Sidewall Style:

Black

Load Index:

82

Speed Rating:

V

UTQG:

300 A A

185/55R15 82H
Stock #:

22227

Sidewall Style:

Black

Load Index:

82

Speed Rating:

H

UTQG:

300 A A

185/60R15 88H
Stock #:

22229

Sidewall Style:

Black

Load Index:

88

Speed Rating:

H

UTQG:

300 A A

185/60R15 84H
Stock #:

22230

Sidewall Style:

Black

Load Index:

84

Speed Rating:

H

UTQG:

300 A A

185/65R15 88H
Stock #:

22232

Sidewall Style:

Black

Load Index:

88

Speed Rating:

H

UTQG:

300 A A

195/45R15 78V
Stock #:

22235

Sidewall Style:

Black

Load Index:

78

Speed Rating:

V

UTQG:

300 A A
Vredestein Sportrac 5
Need a shipping quote or stock info? Just click ADD TO CART >
Info on Our Pricing
$0.00 Tax Collected Outside Utah

195/50R15 82V
Stock #:

22237

Sidewall Style:

Black

Load Index:

82

Speed Rating:

V

UTQG:

300 A A

195/55R15 85V
Stock #:

22239

Sidewall Style:

Black

Load Index:

85

Speed Rating:

V

UTQG:

300 A A

195/55R15 85H
Stock #:

22240

Sidewall Style:

Black

Load Index:

85

Speed Rating:

H

UTQG:

300 A A

195/60R15 88V
Stock #:

22243

Sidewall Style:

Black

Load Index:

88

Speed Rating:

V

UTQG:

300 A A

195/60R15 88H
Stock #:

22244

Sidewall Style:

Black

Load Index:

88

Speed Rating:

H

UTQG:

300 A A

195/65R15 91V
Stock #:

22246

Sidewall Style:

Black

Load Index:

91

Speed Rating:

V

UTQG:

300 A A

195/65R15 91H
Stock #:

22247

Sidewall Style:

Black

Load Index:

91

Speed Rating:

H

UTQG:

300 A A
Vredestein Sportrac 5
Need a shipping quote or stock info? Just click ADD TO CART >
Info on Our Pricing
$0.00 Tax Collected Outside Utah

205/50R15 86V
Stock #:

22250

Sidewall Style:

Black

Load Index:

86

Speed Rating:

V

UTQG:

300 A A

205/55R15 88V
Stock #:

22253

Sidewall Style:

Black

Load Index:

88

Speed Rating:

V

UTQG:

300 A A

205/60R15 91V
Stock #:

22258

Sidewall Style:

Black

Load Index:

91

Speed Rating:

V

UTQG:

300 A A

205/60R15 91H
Stock #:

22259

Sidewall Style:

Black

Load Index:

91

Speed Rating:

H

UTQG:

300 A A

205/65R15 94V
Stock #:

22262

Sidewall Style:

Black

Load Index:

94

Speed Rating:

V

UTQG:

300 A A

205/65R15 94H
Stock #:

22263

Sidewall Style:

Black

Load Index:

94

Speed Rating:

H

UTQG:

300 A A

215/65R15 96H
Stock #:

22271

Sidewall Style:

Black

Load Index:

96

Speed Rating:

H

UTQG:

300 A A
Vredestein Sportrac 5
Need a shipping quote or stock info? Just click ADD TO CART >
Info on Our Pricing
$0.00 Tax Collected Outside Utah

225/60R15 96V
Stock #:

22275

Sidewall Style:

Black

Load Index:

96

Speed Rating:

V

UTQG:

300 A A

175/50R16 81H
Stock #:

22218

Sidewall Style:

Black

Load Index:

81

Speed Rating:

H

UTQG:

300 A A

195/45R16 84V
Stock #:

22236

Sidewall Style:

Black

Load Index:

84

Speed Rating:

V

UTQG:

300 A A

195/50R16 88V
Stock #:

22238

Sidewall Style:

Black

Load Index:

88

Speed Rating:

V

UTQG:

300 A A

195/55R16 87V
Stock #:

22241

Sidewall Style:

Black

Load Index:

87

Speed Rating:

V

UTQG:

300 A A

205/45R16 83V
Stock #:

22249

Sidewall Style:

Black

Load Index:

83

Speed Rating:

V

UTQG:

300 A A

205/50R16 87V
Stock #:

22251

Sidewall Style:

Black

Load Index:

87

Speed Rating:

V

UTQG:

300 A A
Vredestein Sportrac 5
Need a shipping quote or stock info? Just click ADD TO CART >
Info on Our Pricing
$0.00 Tax Collected Outside Utah

205/55R16 91V
Stock #:

22254

Sidewall Style:

Black

Load Index:

91

Speed Rating:

V

UTQG:

300 A A

205/55R16 94V
Stock #:

22255

Sidewall Style:

Black

Load Index:

94

Speed Rating:

V

UTQG:

300 A A

205/55R16 91H
Stock #:

22256

Sidewall Style:

Black

Load Index:

91

Speed Rating:

H

UTQG:

300 A A

205/60R16 92V
Stock #:

22260

Sidewall Style:

Black

Load Index:

92

Speed Rating:

V

UTQG:

300 A A

205/60R16 92H
Stock #:

22261

Sidewall Style:

Black

Load Index:

92

Speed Rating:

H

UTQG:

300 A A

215/45R16 90V
Stock #:

22264

Sidewall Style:

Black

Load Index:

90

Speed Rating:

V

UTQG:

300 A A

215/55R16 97V
Stock #:

22266

Sidewall Style:

Black

Load Index:

97

Speed Rating:

V

UTQG:

300 A A
Vredestein Sportrac 5
Need a shipping quote or stock info? Just click ADD TO CART >
Info on Our Pricing
$0.00 Tax Collected Outside Utah

215/55R16 93V
Stock #:

22267

Sidewall Style:

Black

Load Index:

93

Speed Rating:

V

UTQG:

300 A A

215/60R16 99H
Stock #:

22269

Sidewall Style:

Black

Load Index:

99

Speed Rating:

H

UTQG:

300 A A

215/65R16 98H
Stock #:

22272

Sidewall Style:

Black

Load Index:

98

Speed Rating:

H

UTQG:

300 A A

215/70R16 100H
Stock #:

22273

Sidewall Style:

Black

Load Index:

100

Speed Rating:

H

UTQG:

300 A A

225/70R16 103H
Stock #:

22278

Sidewall Style:

Black

Load Index:

103

Speed Rating:

H

UTQG:

300 A A

235/70R16 106H
Stock #:

22283

Sidewall Style:

Black

Load Index:

106

Speed Rating:

H

UTQG:

300 A A

195/40R17 81V
Stock #:

22234

Sidewall Style:

Black

Load Index:

81

Speed Rating:

V

UTQG:

300 A A
Vredestein Sportrac 5
Need a shipping quote or stock info? Just click ADD TO CART >
Info on Our Pricing
$0.00 Tax Collected Outside Utah

205/50R17 89V
Stock #:

22252

Sidewall Style:

Black

Load Index:

89

Speed Rating:

V

UTQG:

300 A A

205/55R17 95V
Stock #:

22257

Sidewall Style:

Black

Load Index:

95

Speed Rating:

V

UTQG:

300 A A

215/50R17 91V
Stock #:

22265

Sidewall Style:

Black

Load Index:

91

Speed Rating:

V

UTQG:

300 A A

215/60R17 96H
Stock #:

22270

Sidewall Style:

Black

Load Index:

96

Speed Rating:

H

UTQG:

300 A A

225/60R17 103V
Stock #:

22276

Sidewall Style:

Black

Load Index:

103

Speed Rating:

V

UTQG:

300 A A

225/65R17 102H
Stock #:

22277

Sidewall Style:

Black

Load Index:

102

Speed Rating:

H

UTQG:

300 A A

235/60R17 102V
Stock #:

22280

Sidewall Style:

Black

Load Index:

102

Speed Rating:

V

UTQG:

300 A A
Vredestein Sportrac 5
Need a shipping quote or stock info? Just click ADD TO CART >
Info on Our Pricing
$0.00 Tax Collected Outside Utah

235/65R17 108V
Stock #:

22282

Sidewall Style:

Black

Load Index:

108

Speed Rating:

V

UTQG:

360 A A

215/55R18 99V
Stock #:

22268

Sidewall Style:

Black

Load Index:

99

Speed Rating:

V

UTQG:

300 A A

225/55R18 102V
Stock #:

22274

Sidewall Style:

Black

Load Index:

102

Speed Rating:

V

UTQG:

300 A A

235/55R18 100V
Stock #:

22279

Sidewall Style:

Black

Load Index:

100

Speed Rating:

V

UTQG:

300 A A

235/60R18 107V
Stock #:

22281

Sidewall Style:

Black

Load Index:

107

Speed Rating:

V

UTQG:

300 A A