Vredestein Sprint Classic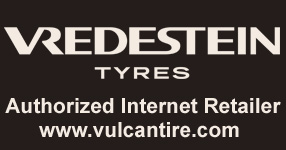 Vulcantire.com is authorized by Vredestein Tire Co. to sell Vredestein brand tires online. As such, all the Vredestein tires we sell were recently purchased directly from Vredestein and are backed by the manufacturer's warranty.
Note that Vredestein does not allow the sale of their products on Amazon, ebay and similar sites.
The Vredestein Sprint Classic was specially developed for enthusiasts with an eye for detail and design. While the unique tire profile and contour remain unchanged, a stylish sidewall marking has been added. However, beneath all the classical exterior lies the most advanced and modern technology.

Advanced tyre technology - Ultra-safe : Up-to-date comfort : Suitable for speeds up to 149 mph

Sophisticated tread compound - Shorter braking distance

Specially designed innerliner - Minimum air loss


Vredestein Sprint Classic
Need a shipping quote or stock info? Just click ADD TO CART >
Info on Our Pricing
$0.00 Tax Collected Outside Utah

185/70R13 86V
Stock #:

10839

Sidewall Style:

Black

Load Index:

86

Speed Rating:

V

UTQG:

220 A B

205/60R13 86V
Stock #:

10834

Sidewall Style:

Black

Load Index:

86

Speed Rating:

V

UTQG:

220 A B

6.40R13 87S
Stock #:

10838

Sidewall Style:

Black

Load Index:

87

Speed Rating:

S

UTQG:

220 A B

135R14 70S
Stock #:

10835

Sidewall Style:

Black

Load Index:

70

Speed Rating:

S

UTQG:

220 A B

165R14 84H
Stock #:

10820

Sidewall Style:

Black

Load Index:

84

Speed Rating:

H

UTQG:

220 A B

175R14 88H
Stock #:

10821

Sidewall Style:

Black

Load Index:

88

Speed Rating:

H

UTQG:

220 A B

185R14 90H
Stock #:

10822

Sidewall Style:

Black

Load Index:

90

Speed Rating:

H

UTQG:

220 A B
Vredestein Sprint Classic
Need a shipping quote or stock info? Just click ADD TO CART >
Info on Our Pricing
$0.00 Tax Collected Outside Utah

195/70R14 91V
Stock #:

10823

Sidewall Style:

Black

Load Index:

91

Speed Rating:

V

UTQG:

220 A B

205/70R14 95V
Stock #:

10824

Sidewall Style:

Black

Load Index:

95

Speed Rating:

V

UTQG:

220 A B

155R15 82S
Stock #:

10825

Sidewall Style:

Black

Load Index:

82

Speed Rating:

S

UTQG:

160 A B

165R15 86H
Stock #:

10826

Sidewall Style:

Black

Load Index:

86

Speed Rating:

H

UTQG:

220 A B

175/70R15 86H
Stock #:

10827

Sidewall Style:

Black

Load Index:

86

Speed Rating:

H

UTQG:

220 A B

185R15 91H
Stock #:

10829

Sidewall Style:

Black

Load Index:

91

Speed Rating:

H

UTQG:

160 A B

185/70R15 89W
Stock #:

10899

Sidewall Style:

Black

Load Index:

89

Speed Rating:

W

UTQG:

160 A B
Vredestein Sprint Classic
Need a shipping quote or stock info? Just click ADD TO CART >
Info on Our Pricing
$0.00 Tax Collected Outside Utah

185/70R15 89H
Stock #:

10828

Sidewall Style:

Black

Load Index:

89

Speed Rating:

H

UTQG:

160 A B

205/70R15 96V
Stock #:

10830

Sidewall Style:

Black

Load Index:

96

Speed Rating:

V

UTQG:

220 A B

205/70R15 96W
Stock #:

10837

Sidewall Style:

Black

Load Index:

96

Speed Rating:

W

UTQG:

220 A A

215/70R15 95V
Stock #:

10831

Sidewall Style:

Black

Load Index:

95

Speed Rating:

V

UTQG:

220 A B

215/70R15 98W
Stock #:

10833

Sidewall Style:

Black

Load Index:

98

Speed Rating:

W

UTQG:

220 A B

185R16 93H
Stock #:

10832

Sidewall Style:

Black

Load Index:

93

Speed Rating:

H

UTQG:

220 A B
| | |
| --- | --- |
| "Overall" Rating of the Vredestein Sprint Classic | (9 Reviews) |
| | |
| --- | --- |
| "Dry Traction" | |

| | |
| --- | --- |
| "Wet Traction" | |

| | |
| --- | --- |
| "Hydroplane Resistance" | |

| | |
| --- | --- |
| "Cornering Predictability" | |

| | |
| --- | --- |
| "Steering Response" | |

| | |
| --- | --- |
| "Style/Looks" | |

"Would you purchase these tires again?"

89% - Yes
11% - No
0% - Maybe


| | |
| --- | --- |
| "Comfort" | |

| | |
| --- | --- |
| "Noise Level" | |

| | |
| --- | --- |
| "Treadwear" | |

| | |
| --- | --- |
| "Light Snow Traction" | |

| | |
| --- | --- |
| "Standard Snow Traction" | |

| | |
| --- | --- |
| "Packed Snow Traction" | |

| | |
| --- | --- |
| "Ice Traction" | |

"Did you use these tires on the Track, Drag Strip or for Auto-cross?"

11% - Yes
89% - No


"Under which track conditions did you use these tires?"

NA% - Auto-x
NA% - Track
NA% - Drag Strip
NA% - Auto-x, Track and/or Drag Strip


| | |
| --- | --- |
| "Heat Resistance" | |

| | |
| --- | --- |
| "Shoulder Roll Resistance" | |

| | |
| --- | --- |
| "Track Treadwear" | |
Verified Owner

BOB

3/30/2016

Overall Rating

Daily Driver/Commuter

Average Driver

1965 MGB ROADSTER

Great tires that fit the personality of my MGB! Nice ride and super handling. Thanks for your great service...

See Full Review
Verified Owner

MYRON

3/25/2016

Overall Rating

Car/Truck Enthusiast

Aggressive Driver

1960 MG MGA

Great tires for a classic sports car.

See Full Review
Verified Owner

RIOCK

10/16/2015

Overall Rating

Car/Truck Enthusiast

Aggressive Driver

1968 JAGUAR E-TYPE

These are one of the few tires that properly fit a Jaguar E-Type. They have excellent grip and are relatively reasonably priced. This car has spoke wheels and inner tubes are required unless the wheels have been modified. There were no problems involved with fitment or balancing.

See Full Review
Verified Owner

PETER K

10/16/2015

Overall Rating

Car/Truck Enthusiast

Slow and Steady Driver

1972 LAMBORGHIN URRACO

Classic tire for a great price. Old school size. 100_ better choice than the Michelin xwx at more than double the price.

See Full Review
Verified Owner

SUBTLE

7/16/2015

Overall Rating

Car/Truck Enthusiast

Aggressive Driver

1967 ALFA ROMEO SUPER

I bought a new 1969 Alfa Romeo Sports Sedan and drove the hell out of the best tires of the day. I have model car today and with 50 percent more torque it goes rather quickly. Vred Classic Sprint tires seem to have about 40 percent better traction--in the wet or dry.

See Full Review
Verified Owner

RICK

7/12/2014

Overall Rating

Car/Truck Enthusiast

Aggressive Driver

1967 JAGUAR E-TYPE

The tires look, feel, and drive great. I wanted sticky tires for aggressive cornering, and they hold the road as I expected.

See Full Review
Verified Owner

DAN

7/10/2014

Overall Rating

Professional Bus/Taxi/Truck Driver

Average Driver

2006 HONDA RIDGELINE

Very nice looking tire, quiet and very deep tread. I hope it gives me near the promised mileage!

See Full Review
Verified Owner

STEPHEN

6/24/2014

Overall Rating

Daily Driver/Commuter

Average Driver

1964 PORSCHE 356

Tall tire that feels squishy when steering....not so connected to the pavement as a modern size low profile tire.

See Full Review
Verified Owner

JCS

6/23/2014

Overall Rating

Car/Truck Enthusiast

Aggressive Driver

1957 MGA ROADSTER

Outstadnding addition to my 1957 MGA. No need to slow excessivvely for cornering with these tires (pressures: 28 F and 30 R, cold).

See Full Review