"This is the fourth time i've bought tires from your site. I'm very pleased with your selection and your prices."

- Nancy from PA
Vredestein T-Trac 2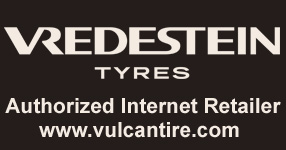 Vulcantire.com is authorized by Vredestein Tire Co. to sell Vredestein brand tires online. As such, all the Vredestein tires we sell were recently purchased directly from Vredestein and are backed by the manufacturer's warranty.
Note that Vredestein does not allow the sale of their products on Amazon, ebay and similar sites.
The Vredestein T-Trac 2 is a premium performance tire optimized for smaller vehicles. The T-Trac 2 combines a comfortable ride with energy efficiency, safety and summer performance.
Full silica tread compound and tuned tread profile
Offers excellent breaking and confidence in wet conditions

Maximized tread block distribution
Provides a very low noise level

Maximized design contour and construction
Absorbs road inconsistencies and provided maximum comfort

Avaliable Speed Ratings

T

Tread Design

Asymmetrical

General Warranty

Standard, Prorated
[more info]

Item Condition

New
×
| | |
| --- | --- |
| "Overall" Rating of the Vredestein T-Trac 2 | |
There are currently no comments available for this item.
Vredestein T-Trac 2
Need a shipping quote or stock info? Just click ADD TO CART >
Info on Our Pricing
$0.00 Tax Collected Outside Utah

145/70R13 71T
Stock #:

22287

Sidewall Style:

Black

Load Index:

71

Speed Rating:

T

UTQG:

360 A A

155/65R13 73T
Stock #:

22288

Sidewall Style:

Black

Load Index:

73

Speed Rating:

T

UTQG:

360 A A

155/70R13 75T
Stock #:

22290

Sidewall Style:

Black

Load Index:

75

Speed Rating:

T

UTQG:

360 A A

165/65R13 77T
Stock #:

22292

Sidewall Style:

Black

Load Index:

77

Speed Rating:

T

UTQG:

360 A A

165/70R13 79T
Stock #:

22294

Sidewall Style:

Black

Load Index:

79

Speed Rating:

T

UTQG:

360 A A

165/70R13 83T
Stock #:

22295

Sidewall Style:

Black

Load Index:

83

Speed Rating:

T

UTQG:

360 A A

175/65R13 80T
Stock #:

22300

Sidewall Style:

Black

Load Index:

80

Speed Rating:

T

UTQG:

360 A A
Vredestein T-Trac 2
Need a shipping quote or stock info? Just click ADD TO CART >
Info on Our Pricing
$0.00 Tax Collected Outside Utah

175/70R13 82T
Stock #:

22305

Sidewall Style:

Black

Load Index:

82

Speed Rating:

T

UTQG:

360 A A

155/65R14 75T
Stock #:

22289

Sidewall Style:

Black

Load Index:

75

Speed Rating:

T

UTQG:

360 A A

165/60R14 75T
Stock #:

22291

Sidewall Style:

Black

Load Index:

75

Speed Rating:

T

UTQG:

360 A A

165/65R14 79T
Stock #:

22293

Sidewall Style:

Black

Load Index:

79

Speed Rating:

T

UTQG:

360 A A

165/70R14 81T
Stock #:

22296

Sidewall Style:

Black

Load Index:

81

Speed Rating:

T

UTQG:

360 A A

165/70R14 85T
Stock #:

22297

Sidewall Style:

Black

Load Index:

85

Speed Rating:

T

UTQG:

360 A A

165/70R14C 89/87T
Stock #:

22298

Sidewall Style:

Black

Load Index:

89/87

Speed Rating:

T

UTQG:

360 A A
Vredestein T-Trac 2
Need a shipping quote or stock info? Just click ADD TO CART >
Info on Our Pricing
$0.00 Tax Collected Outside Utah

175/65R14 82T
Stock #:

22301

Sidewall Style:

Black

Load Index:

82

Speed Rating:

T

UTQG:

360 A A

175/65R14 86T
Stock #:

22302

Sidewall Style:

Black

Load Index:

86

Speed Rating:

T

UTQG:

360 A A

175/65R14C 90/88T
Stock #:

22303

Sidewall Style:

Black

Load Index:

90/88

Speed Rating:

T

UTQG:

360 A A

175/70R14 84T
Stock #:

22306

Sidewall Style:

Black

Load Index:

84

Speed Rating:

T

UTQG:

360 A A

185/60R14 82T
Stock #:

22307

Sidewall Style:

Black

Load Index:

82

Speed Rating:

T

UTQG:

360 A A

185/65R14 86T
Stock #:

22308

Sidewall Style:

Black

Load Index:

86

Speed Rating:

T

UTQG:

360 A A

185/70R14 88T
Stock #:

22311

Sidewall Style:

Black

Load Index:

88

Speed Rating:

T

UTQG:

360 A A
Vredestein T-Trac 2
Need a shipping quote or stock info? Just click ADD TO CART >
Info on Our Pricing
$0.00 Tax Collected Outside Utah

165/80R15 87T
Stock #:

22299

Sidewall Style:

Black

Load Index:

87

Speed Rating:

T

UTQG:

360 A A

175/65R15 84T
Stock #:

22304

Sidewall Style:

Black

Load Index:

84

Speed Rating:

T

UTQG:

360 A A

185/65R15 88T
Stock #:

22309

Sidewall Style:

Black

Load Index:

88

Speed Rating:

T

UTQG:

360 A A

185/65R15 92T
Stock #:

22310

Sidewall Style:

Black

Load Index:

92

Speed Rating:

T

UTQG:

360 A A

195/65R15 91T
Stock #:

22312

Sidewall Style:

Black

Load Index:

91

Speed Rating:

T

UTQG:

360 A A