"Extremely pleasurable buying experience. Would highly reccommend."

- Steven from PA
Vredestein Ultrac Vorti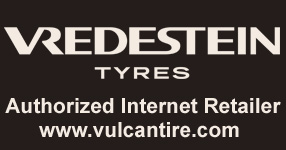 Vulcantire.com is authorized by Vredestein Tire Co. to sell Vredestein brand tires online. As such, all the Vredestein tires we sell were recently purchased directly from Vredestein and are backed by the manufacturer's warranty.
Note that Vredestein does not allow the sale of their products on Amazon, ebay and similar sites.
The Ultrac Vorti is the result of intensive cooperation between Vredestein and several renowned partners in the automotive industry. The tread was developed together with Giugiaro Design.
Whether looking at its tread or its sidewall, the Ultrac Vorti stands out for its sportiness, style and innovation. Moreover, the stunning design has been combined with the most advanced technical details. The outer walls of the two circumferential grooves have a double angle to ensure more block stability in the lateral direction and better compensate for the sideways forces around bends. The lateral grooves ensure even rolling characteristics, preventing uneven wear and maintain low sound levels. Special arrowheads in the tread reinforce the tire's course tracking ability.

4-radii-contour
In contrast to the more common 3-radii contours, the Ultrac Vorti has a 4-radii contour. This innovative solution increases the contact surface and ensures an even surface pressure distribution.

Low sound levels
The Ultrac Vorti has an intelligent, asymmetrical distribution of the tread blocks in the shoulder of the tire. Together with an optimized angle of the lateral shoulder grooves this minimizes noise production. Shifting the blocks on the inner and outer shoulder of the tire in relation to each other prevents any sound amplification. This makes the tire even quieter; not only when new but throughout its entire lifespan.

Vredestein Ultrac Vorti
Need a shipping quote or stock info? Just click ADD TO CART >
Info on Our Pricing
$0.00 Tax Collected Outside Utah

225/45ZR17 94Y
Stock #:

10851

Sidewall Style:

Black

Load Index:

94

Speed Rating:

Y

UTQG:

320 AA A

225/40ZR18 92Y
Stock #:

10840

Sidewall Style:

Black

Load Index:

92

Speed Rating:

Y

UTQG:

320 AA A

225/45ZR18 95Y
Stock #:

22430

Sidewall Style:

Black

Load Index:

95

Speed Rating:

Y

UTQG:

320 AA A

225/50ZR18 99Y
Stock #:

22432

Sidewall Style:

Black

Load Index:

99

Speed Rating:

Y

UTQG:

320 AA A

235/40ZR18 95Y
Stock #:

10852

Sidewall Style:

Black

Load Index:

95

Speed Rating:

Y

UTQG:

320 AA A

235/45ZR18 98Y
Stock #:

22433

Sidewall Style:

Black

Load Index:

98

Speed Rating:

Y

UTQG:

320 AA A

245/40ZR18 97Y
Stock #:

10853

Sidewall Style:

Black

Load Index:

97

Speed Rating:

Y

UTQG:

320 AA A
Vredestein Ultrac Vorti
Need a shipping quote or stock info? Just click ADD TO CART >
Info on Our Pricing
$0.00 Tax Collected Outside Utah

245/45ZR18 100Y
Stock #:

10897

Sidewall Style:

Black

Load Index:

100

Speed Rating:

Y

UTQG:

320 AA A

245/50ZR18 104Y
Stock #:

22438

Sidewall Style:

Black

Load Index:

104

Speed Rating:

Y

UTQG:

320 AA A

255/35ZR18 94Y
Stock #:

10854

Sidewall Style:

Black

Load Index:

94

Speed Rating:

Y

UTQG:

320 AA A

255/40ZR18 99Y
Stock #:

22439

Sidewall Style:

Black

Load Index:

99

Speed Rating:

Y

UTQG:

320 AA A

255/55ZR18 109Y
Stock #:

10885

Sidewall Style:

Black

Load Index:

109

Speed Rating:

Y

UTQG:

300 AA A

265/35ZR18 97Y
Stock #:

10855

Sidewall Style:

Black

Load Index:

97

Speed Rating:

Y

UTQG:

320 AA A

275/35ZR18 99Y
Stock #:

10856

Sidewall Style:

Black

Load Index:

99

Speed Rating:

Y

UTQG:

320 AA A
Vredestein Ultrac Vorti
Need a shipping quote or stock info? Just click ADD TO CART >
Info on Our Pricing
$0.00 Tax Collected Outside Utah

225/35ZR19 88Y
Stock #:

10861

Sidewall Style:

Black

Load Index:

88

Speed Rating:

Y

UTQG:

320 AA A

225/40ZR19 93Y
Stock #:

10857

Sidewall Style:

Black

Load Index:

93

Speed Rating:

Y

UTQG:

320 AA A

225/45ZR19 96Y
Stock #:

22431

Sidewall Style:

Black

Load Index:

96

Speed Rating:

Y

UTQG:

320 AA A

235/35ZR19 91Y
Stock #:

10842

Sidewall Style:

Black

Load Index:

91

Speed Rating:

Y

UTQG:

320 AA A

235/40ZR19 96Y
Stock #:

10841

Sidewall Style:

Black

Load Index:

96

Speed Rating:

Y

UTQG:

320 AA A

235/55ZR19 101Y
Stock #:

10886

Sidewall Style:

Black

Load Index:

101

Speed Rating:

Y

UTQG:

300 AA A

245/35ZR19 93Y
Stock #:

10862

Sidewall Style:

Black

Load Index:

93

Speed Rating:

Y

UTQG:

320 AA A
Vredestein Ultrac Vorti
Need a shipping quote or stock info? Just click ADD TO CART >
Info on Our Pricing
$0.00 Tax Collected Outside Utah

245/40ZR19 98Y
Stock #:

10858

Sidewall Style:

Black

Load Index:

98

Speed Rating:

Y

UTQG:

320 AA A

245/45ZR19 102Y
Stock #:

22436

Sidewall Style:

Black

Load Index:

102

Speed Rating:

Y

UTQG:

320 AA A

255/30ZR19 91Y
Stock #:

10865

Sidewall Style:

Black

Load Index:

91

Speed Rating:

Y

UTQG:

320 AA A

255/35ZR19 96Y
Stock #:

10843

Sidewall Style:

Black

Load Index:

96

Speed Rating:

Y

UTQG:

320 AA A

255/40ZR19 100Y
Stock #:

10859

Sidewall Style:

Black

Load Index:

100

Speed Rating:

Y

UTQG:

320 AA A

255/45ZR19 104Y
Stock #:

22441

Sidewall Style:

Black

Load Index:

104

Speed Rating:

Y

UTQG:

320 AA A

255/50ZR19 107Y
Stock #:

10887

Sidewall Style:

Black

Load Index:

107

Speed Rating:

Y

UTQG:

300 AA A
Vredestein Ultrac Vorti
Need a shipping quote or stock info? Just click ADD TO CART >
Info on Our Pricing
$0.00 Tax Collected Outside Utah

255/55ZR19 111Y
Stock #:

22443

Sidewall Style:

Black

Load Index:

111

Speed Rating:

Y

UTQG:

320 AA A

265/30ZR19 93Y
Stock #:

10866

Sidewall Style:

Black

Load Index:

93

Speed Rating:

Y

UTQG:

320 AA A

265/35ZR19 98Y
Stock #:

10863

Sidewall Style:

Black

Load Index:

98

Speed Rating:

Y

UTQG:

320 AA A

265/50ZR19 110Y
Stock #:

22448

Sidewall Style:

Black

Load Index:

110

Speed Rating:

Y

UTQG:

320 AA A

275/30ZR19 96Y
Stock #:

10867

Sidewall Style:

Black

Load Index:

96

Speed Rating:

Y

UTQG:

320 AA A

275/35ZR19 100Y
Stock #:

10864

Sidewall Style:

Black

Load Index:

100

Speed Rating:

Y

UTQG:

320 AA A

275/40ZR19 105Y
Stock #:

10860

Sidewall Style:

Black

Load Index:

105

Speed Rating:

Y

UTQG:

320 AA A
Vredestein Ultrac Vorti
Need a shipping quote or stock info? Just click ADD TO CART >
Info on Our Pricing
$0.00 Tax Collected Outside Utah

275/45ZR19 108Y
Stock #:

10888

Sidewall Style:

Black

Load Index:

108

Speed Rating:

Y

UTQG:

300 AA A

285/30ZR19 98Y
Stock #:

10844

Sidewall Style:

Black

Load Index:

98

Speed Rating:

Y

UTQG:

320 AA A

285/45ZR19 107Y
Stock #:

10889

Sidewall Style:

Black

Load Index:

107

Speed Rating:

Y

UTQG:

300 AA A

225/35ZR20 90Y
Stock #:

10868

Sidewall Style:

Black

Load Index:

90

Speed Rating:

Y

UTQG:

320 AA A

235/35ZR20 92Y
Stock #:

10869

Sidewall Style:

Black

Load Index:

92

Speed Rating:

Y

UTQG:

320 AA A

245/30ZR20 90Y
Stock #:

10872

Sidewall Style:

Black

Load Index:

90

Speed Rating:

Y

UTQG:

320 AA A

245/35ZR20 95Y
Stock #:

10845

Sidewall Style:

Black

Load Index:

95

Speed Rating:

Y

UTQG:

320 AA A
Vredestein Ultrac Vorti
Need a shipping quote or stock info? Just click ADD TO CART >
Info on Our Pricing
$0.00 Tax Collected Outside Utah

245/40ZR20 99Y
Stock #:

22435

Sidewall Style:

Black

Load Index:

99

Speed Rating:

Y

UTQG:

320 AA A

245/45ZR20 103Y
Stock #:

22437

Sidewall Style:

Black

Load Index:

103

Speed Rating:

Y

UTQG:

320 AA A

255/30ZR20 92Y
Stock #:

10870

Sidewall Style:

Black

Load Index:

92

Speed Rating:

Y

UTQG:

320 AA A

255/35ZR20 97Y
Stock #:

10846

Sidewall Style:

Black

Load Index:

97

Speed Rating:

Y

UTQG:

320 AA A

255/40ZR20 101Y
Stock #:

22440

Sidewall Style:

Black

Load Index:

101

Speed Rating:

Y

UTQG:

320 AA A

255/45ZR20 105Y
Stock #:

10890

Sidewall Style:

Black

Load Index:

105

Speed Rating:

Y

UTQG:

300 AA A

255/50ZR20 109Y
Stock #:

22442

Sidewall Style:

Black

Load Index:

109

Speed Rating:

Y

UTQG:

320 AA A
Vredestein Ultrac Vorti
Need a shipping quote or stock info? Just click ADD TO CART >
Info on Our Pricing
$0.00 Tax Collected Outside Utah

265/30ZR20 94Y
Stock #:

10871

Sidewall Style:

Black

Load Index:

94

Speed Rating:

Y

UTQG:

320 AA A

265/45ZR20 108Y
Stock #:

22447

Sidewall Style:

Black

Load Index:

108

Speed Rating:

Y

UTQG:

320 AA A

275/30ZR20 97Y
Stock #:

10849

Sidewall Style:

Black

Load Index:

97

Speed Rating:

Y

UTQG:

320 AA A

275/35ZR20 102Y
Stock #:

10847

Sidewall Style:

Black

Load Index:

102

Speed Rating:

Y

UTQG:

320 AA A

275/40ZR20 106Y
Stock #:

10892

Sidewall Style:

Black

Load Index:

106

Speed Rating:

Y

UTQG:

300 AA A

275/45ZR20 110Y
Stock #:

10891

Sidewall Style:

Black

Load Index:

110

Speed Rating:

Y

UTQG:

300 AA A

285/25ZR20 93Y
Stock #:

22452

Sidewall Style:

Black

Load Index:

93

Speed Rating:

Y

UTQG:

320 AA A
Vredestein Ultrac Vorti
Need a shipping quote or stock info? Just click ADD TO CART >
Info on Our Pricing
$0.00 Tax Collected Outside Utah

285/30ZR20 99Y
Stock #:

22453

Sidewall Style:

Black

Load Index:

99

Speed Rating:

Y

UTQG:

320 AA A

285/35ZR20 104Y
Stock #:

10848

Sidewall Style:

Black

Load Index:

104

Speed Rating:

Y

UTQG:

320 AA A

295/30ZR20 101Y
Stock #:

10850

Sidewall Style:

Black

Load Index:

101

Speed Rating:

Y

UTQG:

320 AA A

295/35ZR20 105Y
Stock #:

22455

Sidewall Style:

Black

Load Index:

105

Speed Rating:

Y

UTQG:

320 AA A

295/45ZR20 114Y
Stock #:

22457

Sidewall Style:

Black

Load Index:

114

Speed Rating:

Y

UTQG:

320 AA A

315/35ZR20 110Y
Stock #:

10893

Sidewall Style:

Black

Load Index:

110

Speed Rating:

Y

UTQG:

300 AA A

245/35ZR21 96Y
Stock #:

22434

Sidewall Style:

Black

Load Index:

96

Speed Rating:

Y

UTQG:

320 AA A
Vredestein Ultrac Vorti
Need a shipping quote or stock info? Just click ADD TO CART >
Info on Our Pricing
$0.00 Tax Collected Outside Utah

265/35ZR21 101Y
Stock #:

22444

Sidewall Style:

Black

Load Index:

101

Speed Rating:

Y

UTQG:

320 AA A

265/40ZR21 105Y
Stock #:

22446

Sidewall Style:

Black

Load Index:

105

Speed Rating:

Y

UTQG:

320 AA A

275/35ZR21 103Y
Stock #:

22449

Sidewall Style:

Black

Load Index:

103

Speed Rating:

Y

UTQG:

320 AA A

275/45ZR21 110Y
Stock #:

22451

Sidewall Style:

Black

Load Index:

110

Speed Rating:

Y

UTQG:

320 AA A

295/35ZR21 107Y
Stock #:

10894

Sidewall Style:

Black

Load Index:

107

Speed Rating:

Y

UTQG:

300 AA A

295/40ZR21 111Y
Stock #:

22456

Sidewall Style:

Black

Load Index:

111

Speed Rating:

Y

UTQG:

320 AA A

265/35ZR22 102Y
Stock #:

22445

Sidewall Style:

Black

Load Index:

102

Speed Rating:

Y

UTQG:

320 AA A
Vredestein Ultrac Vorti
Need a shipping quote or stock info? Just click ADD TO CART >
Info on Our Pricing
$0.00 Tax Collected Outside Utah

275/40ZR22 108Y
Stock #:

22450

Sidewall Style:

Black

Load Index:

108

Speed Rating:

Y

UTQG:

320 AA A

295/30ZR22 103Y
Stock #:

10895

Sidewall Style:

Black

Load Index:

103

Speed Rating:

Y

UTQG:

300 AA A

335/25ZR22 105Y
Stock #:

10896

Sidewall Style:

Black

Load Index:

105

Speed Rating:

Y

UTQG:

300 AA A

295/30ZR24 104Y
Stock #:

22454

Sidewall Style:

Black

Load Index:

104

Speed Rating:

Y

UTQG:

320 AA A

355/25ZR24 110Y
Stock #:

22458

Sidewall Style:

Black

Load Index:

110

Speed Rating:

Y

UTQG:

320 AA A
| | |
| --- | --- |
| "Overall" Rating of the Vredestein Ultrac Vorti | (5 Reviews) |
| | |
| --- | --- |
| "Dry Traction" | |

| | |
| --- | --- |
| "Wet Traction" | |

| | |
| --- | --- |
| "Hydroplane Resistance" | |

| | |
| --- | --- |
| "Cornering Predictability" | |

| | |
| --- | --- |
| "Steering Response" | |

| | |
| --- | --- |
| "Style/Looks" | |

"Would you purchase these tires again?"

60% - Yes
20% - No
20% - Maybe


| | |
| --- | --- |
| "Comfort" | |

| | |
| --- | --- |
| "Noise Level" | |

| | |
| --- | --- |
| "Treadwear" | |

"Did you use these tires on the Track, Drag Strip or for Auto-cross?"

0% - Yes
100% - No


"Under which track conditions did you use these tires?"

NA% - Auto-x
NA% - Track
NA% - Drag Strip
NA% - Auto-x, Track and/or Drag Strip


| | |
| --- | --- |
| "Heat Resistance" | |

| | |
| --- | --- |
| "Shoulder Roll Resistance" | |

| | |
| --- | --- |
| "Track Treadwear" | |
Verified Owner

PAUL

3/29/2016

Overall Rating

Daily Driver/Commuter

Aggressive Driver

2004 AUDI A6 QUATTRO

Overall I feel its a very good tire except that they tend to follow grooves in the road which I feel is because of the tread design. Prior to these I had a set of the Ultrac Secenta, which are now discontinued, which I loved and I only bought these because those were discontinued. Next time around I will shop for a different tire.

See Full Review
Verified Owner

NJDSRQ

6/13/2015

Overall Rating

Car/Truck Enthusiast

Average Driver

2008 MASERATI QP GTS

Bought these tires and love them! WI'll be buying some to Cayenne GTS soon.

See Full Review
Verified Owner

MADHTR

2/11/2015

Overall Rating

Daily Driver/Commuter

Aggressive Driver

2007 JAGUAR XK-R

These are excellent tires, they are everything the reviews have said they were. Comparative to the popular enthusiast brands out there like Pilots, KDW etc. I have found these to be superior and at half the cost. I am running these on a 2007 Jaguar XK-R which is my DD and sees about 80 miles of daily travel of mixed highway (stop and go traffic in Dallas rush hour) and city driving. I will say I put the rating for treadwear at average as previo

... read more...
See Full Review
Verified Owner

ROBERT

6/25/2014

Overall Rating

Weekend/Club Racer

Average Driver

2009 AUDI A5 S-LINE

I am very pleased with the performance of the tires.

See Full Review