"Great web site. Nice, easy online experience."

- Jim from WA
Vredestein Ultrac Satin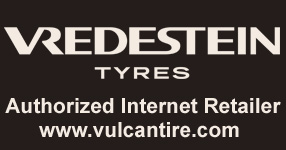 Vulcantire.com is authorized by Vredestein Tire Co. to sell Vredestein brand tires online. As such, all the Vredestein tires we sell were recently purchased directly from Vredestein and are backed by the manufacturer's warranty.
Note that Vredestein does not allow the sale of their products on Amazon, ebay and similar sites.
Vredestein has teamed up once again with Giugiaro Design to offer yet another innovative tread design. The Ultrac Satin is designed with premium cars in mind offering the comfort handling and safety demanded by the most discerning automobile owners.

4 wide circumferential grooves
Offer better water drainage ensuring control on wet roads.

Z-shaped grooves in centre rib
Provides increased stiffness for confident handling

Low sound levels and efficiency
The Ultrac Satin has an intelligent, distribution of the tread blocks. Together with an optimized angle of the lateral shoulder grooves this minimizes noise production and optimizing efficiency. This makes the tire quite and efficient; not only when new but throughout its entire lifespan.

Avaliable Speed Ratings

W, Y, V

Tread Design

Asymmetrical

General Warranty

Standard, Prorated
[more info]

Item Condition

New
×
| | |
| --- | --- |
| "Overall" Rating of the Vredestein Ultrac Satin | |
There are currently no comments available for this item.
Vredestein Ultrac Satin
Need a shipping quote or stock info? Just click ADD TO CART >
Info on Our Pricing
$0.00 Tax Collected Outside Utah

205/45ZR16 87W
Stock #:

20803

Sidewall Style:

Black

Load Index:

87

Speed Rating:

W

UTQG:

280 AA A

205/50ZR16 87W
Stock #:

20806

Sidewall Style:

Black

Load Index:

87

Speed Rating:

W

UTQG:

280 AA A

205/55ZR16 91W
Stock #:

20808

Sidewall Style:

Black

Load Index:

91

Speed Rating:

W

UTQG:

280 AA A

205/55ZR16 94W
Stock #:

20809

Sidewall Style:

Black

Load Index:

94

Speed Rating:

W

UTQG:

280 AA A

205/60ZR16 96W
Stock #:

20811

Sidewall Style:

Black

Load Index:

96

Speed Rating:

W

UTQG:

280 AA A

215/40ZR16 86W
Stock #:

20814

Sidewall Style:

Black

Load Index:

86

Speed Rating:

W

UTQG:

280 AA A

215/55ZR16 97W
Stock #:

20822

Sidewall Style:

Black

Load Index:

97

Speed Rating:

W

UTQG:

280 AA A
Vredestein Ultrac Satin
Need a shipping quote or stock info? Just click ADD TO CART >
Info on Our Pricing
$0.00 Tax Collected Outside Utah

215/60ZR16 99W
Stock #:

20825

Sidewall Style:

Black

Load Index:

99

Speed Rating:

W

UTQG:

280 AA A

225/50ZR16 92W
Stock #:

20834

Sidewall Style:

Black

Load Index:

92

Speed Rating:

W

UTQG:

280 AA A

225/55ZR16 99Y
Stock #:

20836

Sidewall Style:

Black

Load Index:

99

Speed Rating:

Y

UTQG:

280 AA A

225/55ZR16 95W
Stock #:

20837

Sidewall Style:

Black

Load Index:

95

Speed Rating:

W

UTQG:

280 AA A

225/60ZR16 98W
Stock #:

20840

Sidewall Style:

Black

Load Index:

98

Speed Rating:

W

UTQG:

280 AA A

235/60ZR16 100W
Stock #:

20855

Sidewall Style:

Black

Load Index:

100

Speed Rating:

W

UTQG:

280 AA A

205/40ZR17 84Y
Stock #:

20800

Sidewall Style:

Black

Load Index:

84

Speed Rating:

Y

UTQG:

280 AA A
Vredestein Ultrac Satin
Need a shipping quote or stock info? Just click ADD TO CART >
Info on Our Pricing
$0.00 Tax Collected Outside Utah

205/45ZR17 88Y
Stock #:

20804

Sidewall Style:

Black

Load Index:

88

Speed Rating:

Y

UTQG:

280 AA A

205/45R17 88V
Stock #:

20802

Sidewall Style:

Black

Load Index:

88

Speed Rating:

V

UTQG:

280 AA A

205/50ZR17 93Y
Stock #:

20807

Sidewall Style:

Black

Load Index:

93

Speed Rating:

Y

UTQG:

280 AA A

205/50R17 93V
Stock #:

20805

Sidewall Style:

Black

Load Index:

93

Speed Rating:

V

UTQG:

280 AA A

205/55ZR17 91W
Stock #:

20810

Sidewall Style:

Black

Load Index:

91

Speed Rating:

W

UTQG:

280 AA A

215/40ZR17 87Y
Stock #:

20815

Sidewall Style:

Black

Load Index:

87

Speed Rating:

Y

UTQG:

280 AA A

215/40R17 87V
Stock #:

20813

Sidewall Style:

Black

Load Index:

87

Speed Rating:

V

UTQG:

280 AA A
Vredestein Ultrac Satin
Need a shipping quote or stock info? Just click ADD TO CART >
Info on Our Pricing
$0.00 Tax Collected Outside Utah

215/45ZR17 91Y
Stock #:

20818

Sidewall Style:

Black

Load Index:

91

Speed Rating:

Y

UTQG:

280 AA A

215/45R17 91V
Stock #:

20817

Sidewall Style:

Black

Load Index:

91

Speed Rating:

V

UTQG:

280 AA A

215/50ZR17 95W
Stock #:

20820

Sidewall Style:

Black

Load Index:

95

Speed Rating:

W

UTQG:

280 AA A

215/55ZR17 94Y
Stock #:

20823

Sidewall Style:

Black

Load Index:

94

Speed Rating:

Y

UTQG:

280 AA A

215/55ZR17 98W
Stock #:

20824

Sidewall Style:

Black

Load Index:

98

Speed Rating:

W

UTQG:

280 AA A

215/65R17 99V
Stock #:

20826

Sidewall Style:

Black

Load Index:

99

Speed Rating:

V

UTQG:

280 AA A

225/45ZR17 91Y
Stock #:

20830

Sidewall Style:

Black

Load Index:

91

Speed Rating:

Y

UTQG:

280 AA A
Vredestein Ultrac Satin
Need a shipping quote or stock info? Just click ADD TO CART >
Info on Our Pricing
$0.00 Tax Collected Outside Utah

225/45ZR17 94Y
Stock #:

20831

Sidewall Style:

Black

Load Index:

94

Speed Rating:

Y

UTQG:

280 AA A

225/45R17 94V
Stock #:

20829

Sidewall Style:

Black

Load Index:

94

Speed Rating:

V

UTQG:

280 AA A

225/50ZR17 98Y
Stock #:

20835

Sidewall Style:

Black

Load Index:

98

Speed Rating:

Y

UTQG:

280 AA A

225/50R17 98V
Stock #:

20833

Sidewall Style:

Black

Load Index:

98

Speed Rating:

V

UTQG:

280 AA A

225/55ZR17 101W
Stock #:

20838

Sidewall Style:

Black

Load Index:

101

Speed Rating:

W

UTQG:

280 AA A

235/45ZR17 97Y
Stock #:

20844

Sidewall Style:

Black

Load Index:

97

Speed Rating:

Y

UTQG:

280 AA A

235/50ZR17 96Y
Stock #:

20849

Sidewall Style:

Black

Load Index:

96

Speed Rating:

Y

UTQG:

280 AA A
Vredestein Ultrac Satin
Need a shipping quote or stock info? Just click ADD TO CART >
Info on Our Pricing
$0.00 Tax Collected Outside Utah

235/55ZR17 103Y
Stock #:

20853

Sidewall Style:

Black

Load Index:

103

Speed Rating:

Y

UTQG:

280 AA A

235/55R17 103V
Stock #:

20852

Sidewall Style:

Black

Load Index:

103

Speed Rating:

V

UTQG:

280 AA A

235/65ZR17 108W
Stock #:

20857

Sidewall Style:

Black

Load Index:

108

Speed Rating:

W

UTQG:

280 AA A

245/40ZR17 95Y
Stock #:

20859

Sidewall Style:

Black

Load Index:

95

Speed Rating:

Y

UTQG:

280 AA A

245/45ZR17 99Y
Stock #:

20861

Sidewall Style:

Black

Load Index:

99

Speed Rating:

Y

UTQG:

280 AA A

205/40ZR18 86Y
Stock #:

20801

Sidewall Style:

Black

Load Index:

86

Speed Rating:

Y

UTQG:

280 AA A

215/35ZR18 84Y
Stock #:

20812

Sidewall Style:

Black

Load Index:

84

Speed Rating:

Y

UTQG:

280 AA A
Vredestein Ultrac Satin
Need a shipping quote or stock info? Just click ADD TO CART >
Info on Our Pricing
$0.00 Tax Collected Outside Utah

215/40ZR18 89Y
Stock #:

20816

Sidewall Style:

Black

Load Index:

89

Speed Rating:

Y

UTQG:

280 AA A

215/45ZR18 93Y
Stock #:

20819

Sidewall Style:

Black

Load Index:

93

Speed Rating:

Y

UTQG:

280 AA A

215/50ZR18 92W
Stock #:

20821

Sidewall Style:

Black

Load Index:

92

Speed Rating:

W

UTQG:

280 AA A

225/35ZR18 87Y
Stock #:

20827

Sidewall Style:

Black

Load Index:

87

Speed Rating:

Y

UTQG:

280 AA A

225/40ZR18 92Y
Stock #:

20828

Sidewall Style:

Black

Load Index:

92

Speed Rating:

Y

UTQG:

280 AA A

225/45ZR18 95Y
Stock #:

20832

Sidewall Style:

Black

Load Index:

95

Speed Rating:

Y

UTQG:

280 AA A

225/60ZR18 104W
Stock #:

20841

Sidewall Style:

Black

Load Index:

104

Speed Rating:

W

UTQG:

280 AA A
Vredestein Ultrac Satin
Need a shipping quote or stock info? Just click ADD TO CART >
Info on Our Pricing
$0.00 Tax Collected Outside Utah

235/40ZR18 95Y
Stock #:

20842

Sidewall Style:

Black

Load Index:

95

Speed Rating:

Y

UTQG:

280 AA A

235/45ZR18 98Y
Stock #:

20845

Sidewall Style:

Black

Load Index:

98

Speed Rating:

Y

UTQG:

280 AA A

235/50ZR18 101Y
Stock #:

20850

Sidewall Style:

Black

Load Index:

101

Speed Rating:

Y

UTQG:

280 AA A

235/50R18 97V
Stock #:

20848

Sidewall Style:

Black

Load Index:

97

Speed Rating:

V

UTQG:

280 AA A

235/60ZR18 107W
Stock #:

20856

Sidewall Style:

Black

Load Index:

107

Speed Rating:

W

UTQG:

280 AA A

245/35ZR18 92Y
Stock #:

20858

Sidewall Style:

Black

Load Index:

92

Speed Rating:

Y

UTQG:

280 AA A

245/40ZR18 97Y
Stock #:

20860

Sidewall Style:

Black

Load Index:

97

Speed Rating:

Y

UTQG:

280 AA A
Vredestein Ultrac Satin
Need a shipping quote or stock info? Just click ADD TO CART >
Info on Our Pricing
$0.00 Tax Collected Outside Utah

245/45ZR18 100Y
Stock #:

20862

Sidewall Style:

Black

Load Index:

100

Speed Rating:

Y

UTQG:

280 AA A

255/45ZR18 103Y
Stock #:

20864

Sidewall Style:

Black

Load Index:

103

Speed Rating:

Y

UTQG:

280 AA A

255/55ZR18 109Y
Stock #:

20865

Sidewall Style:

Black

Load Index:

109

Speed Rating:

Y

UTQG:

280 AA A

255/60ZR18 112W
Stock #:

20867

Sidewall Style:

Black

Load Index:

112

Speed Rating:

W

UTQG:

280 AA A

225/55ZR19 99W
Stock #:

20839

Sidewall Style:

Black

Load Index:

99

Speed Rating:

W

UTQG:

280 AA A

235/40ZR19 96Y
Stock #:

20843

Sidewall Style:

Black

Load Index:

96

Speed Rating:

Y

UTQG:

280 AA A

235/45ZR19 99W
Stock #:

20846

Sidewall Style:

Black

Load Index:

99

Speed Rating:

W

UTQG:

280 AA A
Vredestein Ultrac Satin
Need a shipping quote or stock info? Just click ADD TO CART >
Info on Our Pricing
$0.00 Tax Collected Outside Utah

235/50ZR19 99W
Stock #:

20851

Sidewall Style:

Black

Load Index:

99

Speed Rating:

W

UTQG:

280 AA A

235/55ZR19 105W
Stock #:

20854

Sidewall Style:

Black

Load Index:

105

Speed Rating:

W

UTQG:

280 AA A

245/50ZR19 105W
Stock #:

20863

Sidewall Style:

Black

Load Index:

105

Speed Rating:

W

UTQG:

280 AA A

255/55ZR19 111W
Stock #:

20866

Sidewall Style:

Black

Load Index:

111

Speed Rating:

W

UTQG:

280 AA A

235/45ZR20 100W
Stock #:

20847

Sidewall Style:

Black

Load Index:

100

Speed Rating:

W

UTQG:

280 AA A