"I had a great experience with my tire purchase with Vulcan Tire, and will be returning..."

- Anthony from AZ
Vredestein Wintrac 4 Xtreme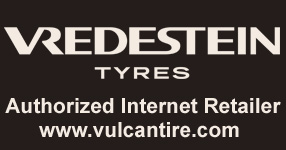 Vulcantire.com is authorized by Vredestein Tire Co. to sell Vredestein brand tires online. As such, all the Vredestein tires we sell were recently purchased directly from Vredestein and are backed by the manufacturer's warranty.
Note that Vredestein does not allow the sale of their products on Amazon, ebay and similar sites.
The WINTRAC 4 XTREME is the first high performance SUV winter tire to carry the signature of a top designer. Giugiaro's innovative design and sleek lines give the W-shaped tread a powerful appearance. The tire reflects the latest developments, offering you the very best in design, safety and comfort. The WINTRAC 4 XTREME has excellent on-road properties, but also features a number of important all-terrain characteristics. For instance, the tread has good self-cleaning properties, resulting in an excellent performance on wintry and unpaved roads.

Powerful appearance due to aggressive, taut lines.

Excellent self-cleaning properties due to sophisticated W-shaped tread.

Optimum Silica Processing (OSP) in the tread compound offers good grip on wet roads outstanding aquaplaning stability.

Refined tread compound rigid sidewall Special belt construction offers precise steering at high speeds.

Equal distribution of pressure in the tread with blocks that vary in size offers comfortably low noise levels throughout the lifespan of the tire.

Avaliable Speed Ratings

H, V, Y

Severe Snow Service

All Season Traction

M+S Rated

General Warranty

Standard, Prorated
[more info]

Item Condition

New
×
| | |
| --- | --- |
| "Overall" Rating of the Vredestein Wintrac 4 Xtreme | |
There are currently no comments available for this item.
Vredestein Wintrac 4 Xtreme
Need a shipping quote or stock info? Just click ADD TO CART >
Info on Our Pricing
$0.00 Tax Collected Outside Utah

215/70R16 100H
Stock #:

10690

Sidewall Style:

Black

Load Index:

100

Speed Rating:

H

UTQG:

225/70R16 102H
Stock #:

10691

Sidewall Style:

Black

Load Index:

102

Speed Rating:

H

UTQG:

235/70R16 106H
Stock #:

10692

Sidewall Style:

Black

Load Index:

106

Speed Rating:

H

UTQG:

245/70R16 107H
Stock #:

10693

Sidewall Style:

Black

Load Index:

107

Speed Rating:

H

UTQG:

255/65R16 109H
Stock #:

10694

Sidewall Style:

Black

Load Index:

109

Speed Rating:

H

UTQG:

265/70R16 112H
Stock #:

10695

Sidewall Style:

Black

Load Index:

112

Speed Rating:

H

UTQG:

215/60R17 96H
Stock #:

10696

Sidewall Style:

Black

Load Index:

96

Speed Rating:

H

UTQG:
Vredestein Wintrac 4 Xtreme
Need a shipping quote or stock info? Just click ADD TO CART >
Info on Our Pricing
$0.00 Tax Collected Outside Utah

225/55R17 97H
Stock #:

10697

Sidewall Style:

Black

Load Index:

97

Speed Rating:

H

UTQG:

225/60R17 103H
Stock #:

10698

Sidewall Style:

Black

Load Index:

103

Speed Rating:

H

UTQG:

225/65R17 102H
Stock #:

10699

Sidewall Style:

Black

Load Index:

102

Speed Rating:

H

UTQG:

235/55R17 99H
Stock #:

10700

Sidewall Style:

Black

Load Index:

99

Speed Rating:

H

UTQG:

235/60R17 102H
Stock #:

10701

Sidewall Style:

Black

Load Index:

102

Speed Rating:

H

UTQG:

235/65R17 108H
Stock #:

10702

Sidewall Style:

Black

Load Index:

108

Speed Rating:

H

UTQG:

235/70R17 111H
Stock #:

10703

Sidewall Style:

Black

Load Index:

111

Speed Rating:

H

UTQG:
Vredestein Wintrac 4 Xtreme
Need a shipping quote or stock info? Just click ADD TO CART >
Info on Our Pricing
$0.00 Tax Collected Outside Utah

245/65R17 107H
Stock #:

10704

Sidewall Style:

Black

Load Index:

107

Speed Rating:

H

UTQG:

255/60R17 106H
Stock #:

10705

Sidewall Style:

Black

Load Index:

106

Speed Rating:

H

UTQG:

255/65R17 110H
Stock #:

10706

Sidewall Style:

Black

Load Index:

110

Speed Rating:

H

UTQG:

265/65R17 112H
Stock #:

10707

Sidewall Style:

Black

Load Index:

112

Speed Rating:

H

UTQG:

225/55R18 98V
Stock #:

10708

Sidewall Style:

Black

Load Index:

98

Speed Rating:

V

UTQG:

235/50R18 97H
Stock #:

10709

Sidewall Style:

Black

Load Index:

97

Speed Rating:

H

UTQG:

235/55R18 100H
Stock #:

10710

Sidewall Style:

Black

Load Index:

100

Speed Rating:

H

UTQG:
Vredestein Wintrac 4 Xtreme
Need a shipping quote or stock info? Just click ADD TO CART >
Info on Our Pricing
$0.00 Tax Collected Outside Utah

235/60R18 107H
Stock #:

10711

Sidewall Style:

Black

Load Index:

107

Speed Rating:

H

UTQG:

235/65R18 110H
Stock #:

10712

Sidewall Style:

Black

Load Index:

110

Speed Rating:

H

UTQG:

255/55R18 109V
Stock #:

10713

Sidewall Style:

Black

Load Index:

109

Speed Rating:

V

UTQG:

255/60R18 112H
Stock #:

10714

Sidewall Style:

Black

Load Index:

112

Speed Rating:

H

UTQG:

265/60R18 114H
Stock #:

10715

Sidewall Style:

Black

Load Index:

114

Speed Rating:

H

UTQG:

235/55R19 105V
Stock #:

10716

Sidewall Style:

Black

Load Index:

105

Speed Rating:

V

UTQG:

255/45R19 104V
Stock #:

10717

Sidewall Style:

Black

Load Index:

104

Speed Rating:

V

UTQG:
Vredestein Wintrac 4 Xtreme
Need a shipping quote or stock info? Just click ADD TO CART >
Info on Our Pricing
$0.00 Tax Collected Outside Utah

255/50R19 107V
Stock #:

10718

Sidewall Style:

Black

Load Index:

107

Speed Rating:

V

UTQG:

255/55R19 111V
Stock #:

10719

Sidewall Style:

Black

Load Index:

111

Speed Rating:

V

UTQG:

265/55R19 109H
Stock #:

10720

Sidewall Style:

Black

Load Index:

109

Speed Rating:

H

UTQG:

275/45R19 108V
Stock #:

10721

Sidewall Style:

Black

Load Index:

108

Speed Rating:

V

UTQG:

285/45R19 111V
Stock #:

10722

Sidewall Style:

Black

Load Index:

111

Speed Rating:

V

UTQG:

255/50R20 109V
Stock #:

10723

Sidewall Style:

Black

Load Index:

109

Speed Rating:

V

UTQG:

275/40R20 106V
Stock #:

10724

Sidewall Style:

Black

Load Index:

106

Speed Rating:

V

UTQG:
Vredestein Wintrac 4 Xtreme
Need a shipping quote or stock info? Just click ADD TO CART >
Info on Our Pricing
$0.00 Tax Collected Outside Utah

275/45R20 110V
Stock #:

10725

Sidewall Style:

Black

Load Index:

110

Speed Rating:

V

UTQG:

295/30R22 103Y
Stock #:

10726

Sidewall Style:

Black

Load Index:

103

Speed Rating:

Y

UTQG: