"Great web site. Nice, easy online experience."

- Jim from WA
Vredestein Wintrac Xtreme S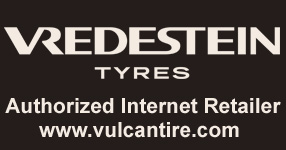 Vulcantire.com is authorized by Vredestein Tire Co. to sell Vredestein brand tires online. As such, all the Vredestein tires we sell were recently purchased directly from Vredestein and are backed by the manufacturer's warranty.
Note that Vredestein does not allow the sale of their products on Amazon, ebay and similar sites.
Vredestein's Wintrac Xtreme S snow tire was developed to tackle extreme winter weather. Advanced grip and steering response offer safety on both snow and ice. This tire's low temperature performance shines on cold dry roads as well. Internal Sipe Locking Technology (ISLT) reduces tread squirm resulting in excellent stability and steering responsiveness.

Innovative locking sipe technology
Provides superior traction and steering precision in all conditions while providing optimal traction on snow and ice

Two extra wide circumferential grooves
Offer excellent water dispersal, even for the widest sizes Low noise levels

Design tread and sidewall by Giugiaro
Shows a sporty look with cool and sleek lines


Avaliable Speed Ratings

H, V, Y

Severe Snow Service

All Season Traction

M+S Rated

General Warranty

Standard, Prorated
[more info]

Road Hazard Warranty

1 Year, 2/32 inch

Free Test Drive

30 Days

Item Condition

New
×
| | |
| --- | --- |
| "Overall" Rating of the Vredestein Wintrac Xtreme S | |
There are currently no comments available for this item.
Vredestein Wintrac Xtreme S
Need a shipping quote or stock info? Just click ADD TO CART >
Info on Our Pricing
$0.00 Tax Collected Outside Utah

215/65R15 96H
Stock #:

21451

Sidewall Style:

Black

Load Index:

96

Speed Rating:

H

UTQG:

205/50R16 87H
Stock #:

21445

Sidewall Style:

Black

Load Index:

87

Speed Rating:

H

UTQG:

205/55R16 94V
Stock #:

13230

Sidewall Style:

Black

Load Index:

94

Speed Rating:

V

UTQG:

215/55R16 97H
Stock #:

13231

Sidewall Style:

Black

Load Index:

97

Speed Rating:

H

UTQG:

215/55R16 93H
Stock #:

21449

Sidewall Style:

Black

Load Index:

93

Speed Rating:

H

UTQG:

215/60R16 99H
Stock #:

13232

Sidewall Style:

Black

Load Index:

99

Speed Rating:

H

UTQG:

215/65R16 98H
Stock #:

13233

Sidewall Style:

Black

Load Index:

98

Speed Rating:

H

UTQG:
Vredestein Wintrac Xtreme S
Need a shipping quote or stock info? Just click ADD TO CART >
Info on Our Pricing
$0.00 Tax Collected Outside Utah

215/70R16 100H
Stock #:

21452

Sidewall Style:

Black

Load Index:

100

Speed Rating:

H

UTQG:

225/55R16 99H
Stock #:

13234

Sidewall Style:

Black

Load Index:

99

Speed Rating:

H

UTQG:

225/55R16 95H
Stock #:

21457

Sidewall Style:

Black

Load Index:

95

Speed Rating:

H

UTQG:

225/55R16 99V
Stock #:

21458

Sidewall Style:

Black

Load Index:

99

Speed Rating:

V

UTQG:

225/60R16 98H
Stock #:

13236

Sidewall Style:

Black

Load Index:

98

Speed Rating:

H

UTQG:

225/70R16 103H
Stock #:

21464

Sidewall Style:

Black

Load Index:

103

Speed Rating:

H

UTQG:

235/60R16 100H
Stock #:

21471

Sidewall Style:

Black

Load Index:

100

Speed Rating:

H

UTQG:
Vredestein Wintrac Xtreme S
Need a shipping quote or stock info? Just click ADD TO CART >
Info on Our Pricing
$0.00 Tax Collected Outside Utah

235/70R16 106H
Stock #:

13237

Sidewall Style:

Black

Load Index:

106

Speed Rating:

H

UTQG:

245/70R16 107H
Stock #:

21477

Sidewall Style:

Black

Load Index:

107

Speed Rating:

H

UTQG:

265/70R16 112H
Stock #:

21486

Sidewall Style:

Black

Load Index:

112

Speed Rating:

H

UTQG:

205/45R17 88V
Stock #:

21444

Sidewall Style:

Black

Load Index:

88

Speed Rating:

V

UTQG:

205/50R17 93H
Stock #:

13238

Sidewall Style:

Black

Load Index:

93

Speed Rating:

H

UTQG:

205/50R17 93V
Stock #:

21446

Sidewall Style:

Black

Load Index:

93

Speed Rating:

V

UTQG:

215/40R17 87V
Stock #:

21447

Sidewall Style:

Black

Load Index:

87

Speed Rating:

V

UTQG:
Vredestein Wintrac Xtreme S
Need a shipping quote or stock info? Just click ADD TO CART >
Info on Our Pricing
$0.00 Tax Collected Outside Utah

215/45R17 91V
Stock #:

21448

Sidewall Style:

Black

Load Index:

91

Speed Rating:

V

UTQG:

215/50R17 95V
Stock #:

13240

Sidewall Style:

Black

Load Index:

95

Speed Rating:

V

UTQG:

215/55R17 98V
Stock #:

13241

Sidewall Style:

Black

Load Index:

98

Speed Rating:

V

UTQG:

215/60R17 96H
Stock #:

13242

Sidewall Style:

Black

Load Index:

96

Speed Rating:

H

UTQG:

225/45R17 94V
Stock #:

13243

Sidewall Style:

Black

Load Index:

94

Speed Rating:

V

UTQG:

225/45R17 94H
Stock #:

21453

Sidewall Style:

Black

Load Index:

94

Speed Rating:

H

UTQG:

225/45R17 91H
Stock #:

21454

Sidewall Style:

Black

Load Index:

91

Speed Rating:

H

UTQG:
Vredestein Wintrac Xtreme S
Need a shipping quote or stock info? Just click ADD TO CART >
Info on Our Pricing
$0.00 Tax Collected Outside Utah

225/50R17 98V
Stock #:

13245

Sidewall Style:

Black

Load Index:

98

Speed Rating:

V

UTQG:

225/50R17 98H
Stock #:

21456

Sidewall Style:

Black

Load Index:

98

Speed Rating:

H

UTQG:

225/55R17 101V
Stock #:

13246

Sidewall Style:

Black

Load Index:

101

Speed Rating:

V

UTQG:

225/55R17 97H
Stock #:

21459

Sidewall Style:

Black

Load Index:

97

Speed Rating:

H

UTQG:

225/60R17 103H
Stock #:

21462

Sidewall Style:

Black

Load Index:

103

Speed Rating:

H

UTQG:

225/65R17 102H
Stock #:

13248

Sidewall Style:

Black

Load Index:

102

Speed Rating:

H

UTQG:

235/45R17 97V
Stock #:

21465

Sidewall Style:

Black

Load Index:

97

Speed Rating:

V

UTQG:
Vredestein Wintrac Xtreme S
Need a shipping quote or stock info? Just click ADD TO CART >
Info on Our Pricing
$0.00 Tax Collected Outside Utah

235/55R17 103V
Stock #:

21467

Sidewall Style:

Black

Load Index:

103

Speed Rating:

V

UTQG:

235/55R17 99H
Stock #:

21468

Sidewall Style:

Black

Load Index:

99

Speed Rating:

H

UTQG:

235/60R17 102H
Stock #:

21472

Sidewall Style:

Black

Load Index:

102

Speed Rating:

H

UTQG:

235/65R17 108H
Stock #:

13249

Sidewall Style:

Black

Load Index:

108

Speed Rating:

H

UTQG:

245/45R17 99V
Stock #:

21474

Sidewall Style:

Black

Load Index:

99

Speed Rating:

V

UTQG:

245/65R17 111H
Stock #:

21476

Sidewall Style:

Black

Load Index:

111

Speed Rating:

H

UTQG:

255/40R17 98V
Stock #:

21478

Sidewall Style:

Black

Load Index:

98

Speed Rating:

V

UTQG:
Vredestein Wintrac Xtreme S
Need a shipping quote or stock info? Just click ADD TO CART >
Info on Our Pricing
$0.00 Tax Collected Outside Utah

255/60R17 106H
Stock #:

13250

Sidewall Style:

Black

Load Index:

106

Speed Rating:

H

UTQG:

255/65R17 110H
Stock #:

21482

Sidewall Style:

Black

Load Index:

110

Speed Rating:

H

UTQG:

265/65R17 112H
Stock #:

21485

Sidewall Style:

Black

Load Index:

112

Speed Rating:

H

UTQG:

215/55R18 95H
Stock #:

21450

Sidewall Style:

Black

Load Index:

95

Speed Rating:

H

UTQG:

225/40R18 92Y
Stock #:

13251

Sidewall Style:

Black

Load Index:

92

Speed Rating:

Y

UTQG:

225/45R18 95Y
Stock #:

13252

Sidewall Style:

Black

Load Index:

95

Speed Rating:

Y

UTQG:

225/50R18 99V
Stock #:

13253

Sidewall Style:

Black

Load Index:

99

Speed Rating:

V

UTQG:
Vredestein Wintrac Xtreme S
Need a shipping quote or stock info? Just click ADD TO CART >
Info on Our Pricing
$0.00 Tax Collected Outside Utah

225/55R18 98V
Stock #:

21460

Sidewall Style:

Black

Load Index:

98

Speed Rating:

V

UTQG:

225/60R18 104V
Stock #:

21463

Sidewall Style:

Black

Load Index:

104

Speed Rating:

V

UTQG:

235/40R18 95Y
Stock #:

13254

Sidewall Style:

Black

Load Index:

95

Speed Rating:

Y

UTQG:

235/45R18 98V
Stock #:

21466

Sidewall Style:

Black

Load Index:

98

Speed Rating:

V

UTQG:

235/50R18 101V
Stock #:

13255

Sidewall Style:

Black

Load Index:

101

Speed Rating:

V

UTQG:

235/55R18 100H
Stock #:

21469

Sidewall Style:

Black

Load Index:

100

Speed Rating:

H

UTQG:

235/60R18 107H
Stock #:

21473

Sidewall Style:

Black

Load Index:

107

Speed Rating:

H

UTQG:
Vredestein Wintrac Xtreme S
Need a shipping quote or stock info? Just click ADD TO CART >
Info on Our Pricing
$0.00 Tax Collected Outside Utah

245/40R18 97Y
Stock #:

13256

Sidewall Style:

Black

Load Index:

97

Speed Rating:

Y

UTQG:

245/45R18 100V
Stock #:

13257

Sidewall Style:

Black

Load Index:

100

Speed Rating:

V

UTQG:

245/50R18 104V
Stock #:

13258

Sidewall Style:

Black

Load Index:

104

Speed Rating:

V

UTQG:

255/40R18 99Y
Stock #:

13259

Sidewall Style:

Black

Load Index:

99

Speed Rating:

Y

UTQG:

255/45R18 103V
Stock #:

21480

Sidewall Style:

Black

Load Index:

103

Speed Rating:

V

UTQG:

255/55R18 109V
Stock #:

13260

Sidewall Style:

Black

Load Index:

109

Speed Rating:

V

UTQG:

255/60R18 112V
Stock #:

13261

Sidewall Style:

Black

Load Index:

112

Speed Rating:

V

UTQG:
Vredestein Wintrac Xtreme S
Need a shipping quote or stock info? Just click ADD TO CART >
Info on Our Pricing
$0.00 Tax Collected Outside Utah

265/60R18 114H
Stock #:

21484

Sidewall Style:

Black

Load Index:

114

Speed Rating:

H

UTQG:

225/40R19 93Y
Stock #:

13262

Sidewall Style:

Black

Load Index:

93

Speed Rating:

Y

UTQG:

225/45R19 96V
Stock #:

21455

Sidewall Style:

Black

Load Index:

96

Speed Rating:

V

UTQG:

225/55R19 99V
Stock #:

21461

Sidewall Style:

Black

Load Index:

99

Speed Rating:

V

UTQG:

235/35R19 91Y
Stock #:

13263

Sidewall Style:

Black

Load Index:

91

Speed Rating:

Y

UTQG:

235/40R19 96Y
Stock #:

13264

Sidewall Style:

Black

Load Index:

96

Speed Rating:

Y

UTQG:

235/45R19 99V
Stock #:

13265

Sidewall Style:

Black

Load Index:

99

Speed Rating:

V

UTQG:
Vredestein Wintrac Xtreme S
Need a shipping quote or stock info? Just click ADD TO CART >
Info on Our Pricing
$0.00 Tax Collected Outside Utah

235/55R19 105V
Stock #:

21470

Sidewall Style:

Black

Load Index:

105

Speed Rating:

V

UTQG:

245/40R19 98Y
Stock #:

13266

Sidewall Style:

Black

Load Index:

98

Speed Rating:

Y

UTQG:

245/45R19 102Y
Stock #:

21475

Sidewall Style:

Black

Load Index:

102

Speed Rating:

Y

UTQG:

255/35R19 96Y
Stock #:

13267

Sidewall Style:

Black

Load Index:

96

Speed Rating:

Y

UTQG:

255/40R19 100Y
Stock #:

21479

Sidewall Style:

Black

Load Index:

100

Speed Rating:

Y

UTQG:

255/45R19 104V
Stock #:

21481

Sidewall Style:

Black

Load Index:

104

Speed Rating:

V

UTQG:

255/50R19 107V
Stock #:

13268

Sidewall Style:

Black

Load Index:

107

Speed Rating:

V

UTQG:
Vredestein Wintrac Xtreme S
Need a shipping quote or stock info? Just click ADD TO CART >
Info on Our Pricing
$0.00 Tax Collected Outside Utah

255/55R19 111V
Stock #:

13269

Sidewall Style:

Black

Load Index:

111

Speed Rating:

V

UTQG:

265/55R19 109H
Stock #:

21483

Sidewall Style:

Black

Load Index:

109

Speed Rating:

H

UTQG:

275/35R19 100Y
Stock #:

13270

Sidewall Style:

Black

Load Index:

100

Speed Rating:

Y

UTQG:

275/45R19 108V
Stock #:

13271

Sidewall Style:

Black

Load Index:

108

Speed Rating:

V

UTQG:

285/45R19 111V
Stock #:

13272

Sidewall Style:

Black

Load Index:

111

Speed Rating:

V

UTQG:

295/30R19 100Y
Stock #:

13273

Sidewall Style:

Black

Load Index:

100

Speed Rating:

Y

UTQG:

245/35R20 95Y
Stock #:

13274

Sidewall Style:

Black

Load Index:

95

Speed Rating:

Y

UTQG:
Vredestein Wintrac Xtreme S
Need a shipping quote or stock info? Just click ADD TO CART >
Info on Our Pricing
$0.00 Tax Collected Outside Utah

245/40R20 99Y
Stock #:

13275

Sidewall Style:

Black

Load Index:

99

Speed Rating:

Y

UTQG:

245/45R20 103V
Stock #:

13276

Sidewall Style:

Black

Load Index:

103

Speed Rating:

V

UTQG:

255/45R20 105V
Stock #:

13277

Sidewall Style:

Black

Load Index:

105

Speed Rating:

V

UTQG:

255/50R20 109V
Stock #:

13278

Sidewall Style:

Black

Load Index:

109

Speed Rating:

V

UTQG:

275/30R20 97Y
Stock #:

13279

Sidewall Style:

Black

Load Index:

97

Speed Rating:

Y

UTQG:

275/40R20 106V
Stock #:

13280

Sidewall Style:

Black

Load Index:

106

Speed Rating:

V

UTQG:

275/45R20 110V
Stock #:

21487

Sidewall Style:

Black

Load Index:

110

Speed Rating:

V

UTQG:
Vredestein Wintrac Xtreme S
Need a shipping quote or stock info? Just click ADD TO CART >
Info on Our Pricing
$0.00 Tax Collected Outside Utah

245/35R21 96Y
Stock #:

13281

Sidewall Style:

Black

Load Index:

96

Speed Rating:

Y

UTQG:

275/45R21 110V
Stock #:

13282

Sidewall Style:

Black

Load Index:

110

Speed Rating:

V

UTQG:

295/35R21 107Y
Stock #:

21489

Sidewall Style:

Black

Load Index:

107

Speed Rating:

Y

UTQG:

275/40R22 108V
Stock #:

13283

Sidewall Style:

Black

Load Index:

108

Speed Rating:

V

UTQG:

295/30R22 103Y
Stock #:

21488

Sidewall Style:

Black

Load Index:

103

Speed Rating:

Y

UTQG: