Vredestein Wintrac Xtreme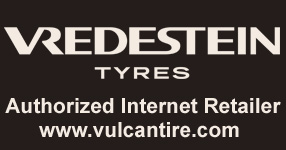 Vulcantire.com is authorized by Vredestein Tire Co. to sell Vredestein brand tires online. As such, all the Vredestein tires we sell were recently purchased directly from Vredestein and are backed by the manufacturer's warranty.
Note that Vredestein does not allow the sale of their products on Amazon, ebay and similar sites.
The WINTRAC XTREME is the first winter tire to be developed in partnership with Giugiaro Design. Aggressive, firm lines give the W-shaped tread its powerful appeal. Sipe technology was a priority for Vredestein in the design of the WINTRAC XTREME. Optimum Silica Processing (OSP) technology is incorporated in the fabrication of the tread compound, enhancing the winter performance and improving grip on wet surfaces. In addition, the equal distribution of pressure across the contact area ensures an even wear pattern, whereby low noise levels are assured throughout the tire's life-span.

Powerful appearance due to aggressive and firm lines

Straight sipes across the tread for a good grip on snow Zigzag sipes in the tread shoulders for perfect handling.

Optimum Silica Processing (OSP) in the tread compound offers good grip on wet roads outstanding aquaplaning stability.

Speed ratings H, V and W offer a true high-performance winter tire with good course stability and steering precision.

Equal distribution of pressure across the footprint offers low noise levels throughout the tire's life-span Perfect driving performance in winter conditions.

Vredestein Wintrac Xtreme
Need a shipping quote or stock info? Just click ADD TO CART >
Info on Our Pricing
$0.00 Tax Collected Outside Utah

205/50R16 87H
Stock #:

10740

Sidewall Style:

Black

Load Index:

87

Speed Rating:

H

UTQG:

205/55R16 94V
Stock #:

10741

Sidewall Style:

Black

Load Index:

94

Speed Rating:

V

UTQG:

215/55R16 97H
Stock #:

10742

Sidewall Style:

Black

Load Index:

97

Speed Rating:

H

UTQG:

215/60R16 99H
Stock #:

10743

Sidewall Style:

Black

Load Index:

99

Speed Rating:

H

UTQG:

215/65R16 98H
Stock #:

10744

Sidewall Style:

Black

Load Index:

98

Speed Rating:

H

UTQG:

225/55R16 95H
Stock #:

10745

Sidewall Style:

Black

Load Index:

95

Speed Rating:

H

UTQG:

225/55R16 99V
Stock #:

10746

Sidewall Style:

Black

Load Index:

99

Speed Rating:

V

UTQG:
Vredestein Wintrac Xtreme
Need a shipping quote or stock info? Just click ADD TO CART >
Info on Our Pricing
$0.00 Tax Collected Outside Utah

225/60R16 98H
Stock #:

10747

Sidewall Style:

Black

Load Index:

98

Speed Rating:

H

UTQG:

235/60R16 100H
Stock #:

10748

Sidewall Style:

Black

Load Index:

100

Speed Rating:

H

UTQG:

205/45R17 88V
Stock #:

10749

Sidewall Style:

Black

Load Index:

88

Speed Rating:

V

UTQG:

205/50R17 93H
Stock #:

10750

Sidewall Style:

Black

Load Index:

93

Speed Rating:

H

UTQG:

205/50R17 93V
Stock #:

10751

Sidewall Style:

Black

Load Index:

93

Speed Rating:

V

UTQG:

215/40R17 87V
Stock #:

10752

Sidewall Style:

Black

Load Index:

87

Speed Rating:

V

UTQG:

215/45R17 91V
Stock #:

10753

Sidewall Style:

Black

Load Index:

91

Speed Rating:

V

UTQG:
Vredestein Wintrac Xtreme
Need a shipping quote or stock info? Just click ADD TO CART >
Info on Our Pricing
$0.00 Tax Collected Outside Utah

215/50R17 95V
Stock #:

10754

Sidewall Style:

Black

Load Index:

95

Speed Rating:

V

UTQG:

215/55R17 98V
Stock #:

10755

Sidewall Style:

Black

Load Index:

98

Speed Rating:

V

UTQG:

225/45R17 94H
Stock #:

10756

Sidewall Style:

Black

Load Index:

94

Speed Rating:

H

UTQG:

225/45R17 94V
Stock #:

10757

Sidewall Style:

Black

Load Index:

94

Speed Rating:

V

UTQG:


225/50R17 98H
Stock #:

10758

Sidewall Style:

Black

Load Index:

98

Speed Rating:

H

UTQG:

225/50R17 98V
Stock #:

10759

Sidewall Style:

Black

Load Index:

98

Speed Rating:

V

UTQG:
Vredestein Wintrac Xtreme
Need a shipping quote or stock info? Just click ADD TO CART >
Info on Our Pricing
$0.00 Tax Collected Outside Utah

225/55R17 101V
Stock #:

10760

Sidewall Style:

Black

Load Index:

101

Speed Rating:

V

UTQG:

235/45R17 97V
Stock #:

10761

Sidewall Style:

Black

Load Index:

97

Speed Rating:

V

UTQG:

235/55R17 103V
Stock #:

10762

Sidewall Style:

Black

Load Index:

103

Speed Rating:

V

UTQG:

245/45R17 99V
Stock #:

10763

Sidewall Style:

Black

Load Index:

99

Speed Rating:

V

UTQG:

255/40R17 98W
Stock #:

10764

Sidewall Style:

Black

Load Index:

98

Speed Rating:

W

UTQG:

225/40R18 92W
Stock #:

10765

Sidewall Style:

Black

Load Index:

92

Speed Rating:

W

UTQG:

225/45R18 95V
Stock #:

10766

Sidewall Style:

Black

Load Index:

95

Speed Rating:

V

UTQG:
Vredestein Wintrac Xtreme
Need a shipping quote or stock info? Just click ADD TO CART >
Info on Our Pricing
$0.00 Tax Collected Outside Utah

225/60R18 104V
Stock #:

10767

Sidewall Style:

Black

Load Index:

104

Speed Rating:

V

UTQG:

235/40R18 95W
Stock #:

10768

Sidewall Style:

Black

Load Index:

95

Speed Rating:

W

UTQG:

235/45R18 98V
Stock #:

10769

Sidewall Style:

Black

Load Index:

98

Speed Rating:

V

UTQG:

235/50R18 101V
Stock #:

10770

Sidewall Style:

Black

Load Index:

101

Speed Rating:

V

UTQG:

245/40R18 97W
Stock #:

10771

Sidewall Style:

Black

Load Index:

97

Speed Rating:

W

UTQG:

245/45R18 100W
Stock #:

10772

Sidewall Style:

Black

Load Index:

100

Speed Rating:

W

UTQG:

255/40R18 99W
Stock #:

10773

Sidewall Style:

Black

Load Index:

99

Speed Rating:

W

UTQG:
Vredestein Wintrac Xtreme
Need a shipping quote or stock info? Just click ADD TO CART >
Info on Our Pricing
$0.00 Tax Collected Outside Utah

255/45R18 103V
Stock #:

10774

Sidewall Style:

Black

Load Index:

103

Speed Rating:

V

UTQG:

265/35R18 97W
Stock #:

10775

Sidewall Style:

Black

Load Index:

97

Speed Rating:

W

UTQG:

235/35R19 91W
Stock #:

10776

Sidewall Style:

Black

Load Index:

91

Speed Rating:

W

UTQG:

245/35R19 93W
Stock #:

10777

Sidewall Style:

Black

Load Index:

93

Speed Rating:

W

UTQG:

255/35R19 96W
Stock #:

10778

Sidewall Style:

Black

Load Index:

96

Speed Rating:

W

UTQG:

265/30R19 93W
Stock #:

10779

Sidewall Style:

Black

Load Index:

93

Speed Rating:

W

UTQG:

275/30R19 96W
Stock #:

10780

Sidewall Style:

Black

Load Index:

96

Speed Rating:

W

UTQG:
Vredestein Wintrac Xtreme
Need a shipping quote or stock info? Just click ADD TO CART >
Info on Our Pricing
$0.00 Tax Collected Outside Utah

235/30R20 88W
Stock #:

10781

Sidewall Style:

Black

Load Index:

88

Speed Rating:

W

UTQG:

245/30R20 90W
Stock #:

10782

Sidewall Style:

Black

Load Index:

90

Speed Rating:

W

UTQG:

245/40R20 99W
Stock #:

10783

Sidewall Style:

Black

Load Index:

99

Speed Rating:

W

UTQG:

285/25R20 93W
Stock #:

10784

Sidewall Style:

Black

Load Index:

93

Speed Rating:

W

UTQG:
| | |
| --- | --- |
| "Overall" Rating of the Vredestein Wintrac Xtreme | |
Verified Owner

MOHAWK

6/21/2014

Overall Rating

Weekend/Club Racer

Aggressive Driver

2002 SUBARU WRX

Used on 400hp Subaru for daily diving, rally cross, and deep snow more than 2 feet. Excellent cutting of all surfaces. Was able to hold awesome 4wd slides with ease very. comfortable and quiet.

See Full Review