TST Color 507RV 4 Wheel System w/ Flow-Through Sensors
Sensor Damage Warning:This system features Flow Through sensors for both the towing vehicle and trailer. Please note that Flow Through sensors are not recommended for use on smaller Trailer, SUV and Car wheels. Due to the length of Flow Through sensors, the sensor will often extend past of the face of the wheel on smaller wheels making the sensor susceptible to curb damage. This is not a concern on RV tires and wheels due to their size.

Introduction
TST's (Truck System Technologies) Tire Pressure Monitoring System (TPMS) with Flow-Through Sensors gives the driver detailed information about his or her tires. The large, easy-to-read color LCD display allows the driver to check the current pressure of all his tires (even those on a vehicle in tow) at the touch of a button, from the comfort of the driver's seat. In the event of deviation from required pressure or temperature, the system will issue an audible and visual alert on the in-cab display. These alerts are custom programmable for each axle and trailer. In addition, this system features "flow-through" sensors that allow you to add air to the tires without removing the sensor from the stem.

If a tire's air pressure drops below the programmed value, the LCD display will identify the problem tire. The vehicle can then be pulled to a safe location and the highlighted tire on the LCD display can be inspected.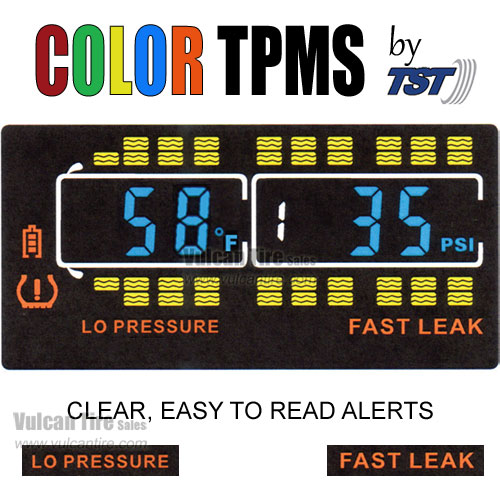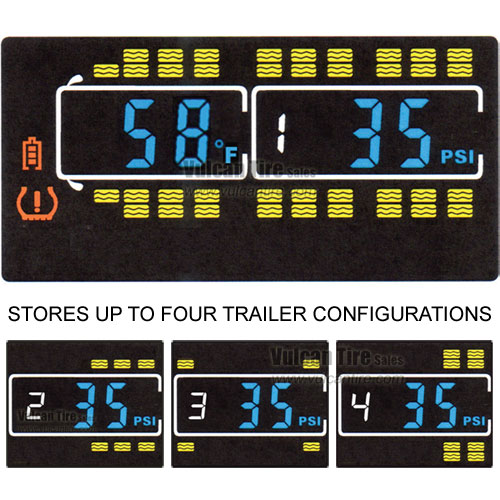 How It Works
The wireless tire pressure sensors are mounted on your valve stems, outside your tires (each sensor weighs only 2/3 oz so they will not effect balancing on RV tires). These sensors send pressure data via a digitally encoded, wireless signal to the display in your vehicle. The sensors/transmitters are equipped with replaceable lithium batteries. Battery Life is estimated at 12 months when the sensors are installed.

Requirements
This system is compatible with virtually any vehicle with metal valve stems. (The sensors may not fit on some rubber valve stems due the thickness of the rubber near the threads of the stem.)

Warranty
TST Tire Pressure Monitoring Systems are backed by a two-year/unlimited mileage manufacturer's warranty.

Try it for Thirty Days
As with most of the products we offer, you can return this system within 30 days if you are not satisfied. See our Sales Policy for more information on returns.

Please call us at:

if you have any questions.
Kit
Includes

1 Color Monitor/Display
4 Flow-Through Sensors
1 Repeater
1 Power Plug Adaptor
1 Hard-wire Power Cord
1 Suction Cup Display Mount
1 Monitor Stand
2 Hex Wrenches
6 Battery Door Seals
1 Spare Screw Pack

Installation Difficulty